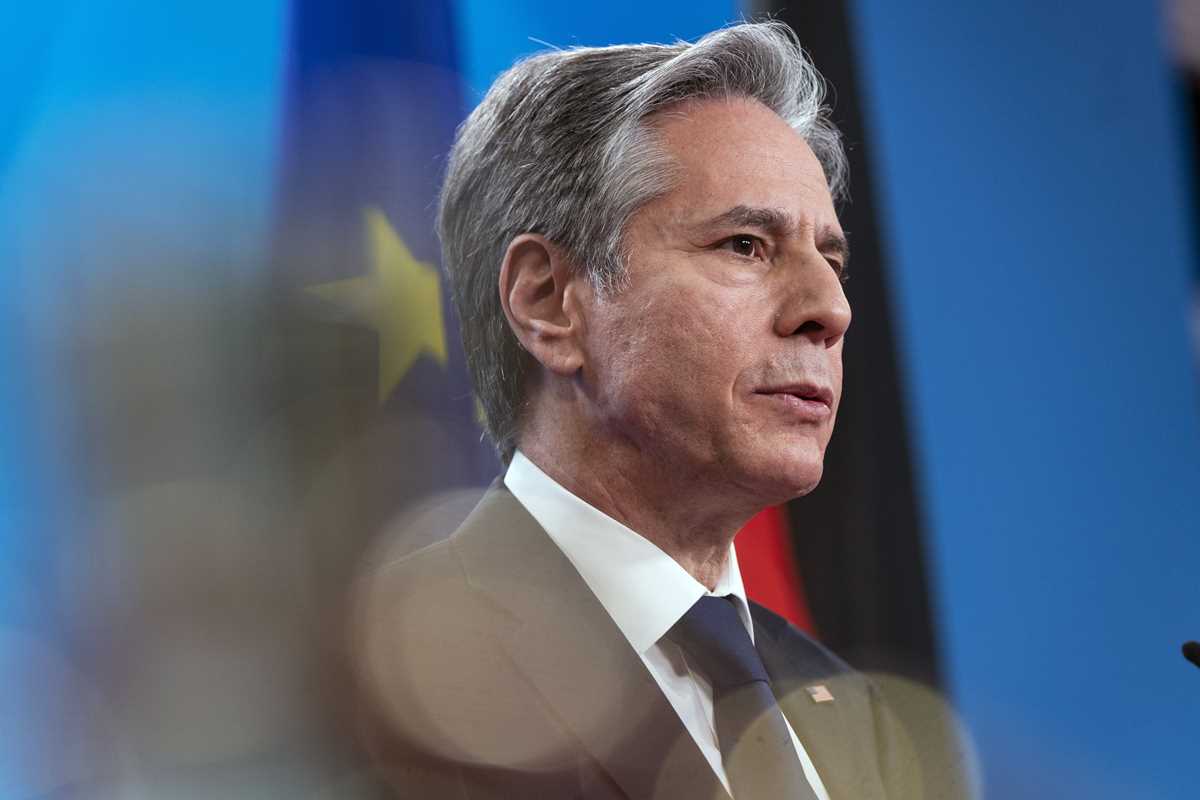 Secretary of State Antony Blinken speaks during a media availability with German Foreign Minister Annalena Baerbock, at the Ministry of Foreign Affairs, Thursday, Jan. 20, 2022, in Berlin, Germany. (AP Photo/Alex Brandon, Pool)
BERLIN (AP) — U.S. Secretary of State Antony Blinken said Thursday that talks with Iran over its nuclear program are at a "decisive moment," and warned that Washington and its allies may change tactics if a deal isn't reached in the coming weeks.
Blinken said that the longer Iran fails to comply with the 2015 Vienna accord — intended to rein in Tehran's nuclear program — the closer it would get to being able to build an atomic weapon.
"We are indeed at a decisive moment," Blinken told reporters in Berlin after meeting senior diplomats from Germany, France and Britain. He added that he believed modest progress had been made during the ongoing round of talks in the Austrian capital.
"But we are not where we need to be. And if we don't get there very soon, we will have to take a different course," he said.
The U.S. withdrew from the Vienna accord under President Donald Trump and reinstated economics sanctions on Tehran. Iran responded by increasing the purity of uranium it enriches and its stockpiles, in breach of the accord.
President Joe Biden has signaled that he wants to rejoin the deal.
German Foreign Minister Annalena Baerbock, whose country remains part of the accord known as the Joint Comprehensive Plan of Action along with France, Britain, China and Russia, echoed Blinken's words.
"Our objective is to maintain and to preserve the agreement and above all, to make Iran see sense and to ensure that Iran can no further increase its enrichment capacity," she said.
Baerbock indicated that European nations had sought to ensure China and Russia also maintain pressure on Tehran. Both countries have in recent days spoken of new trade and economic cooperation agreements with Iran, which some fear could undermine efforts to get Tehran to make concessions at the Vienna talks.
French Foreign Minister Jean-Yves Le Drian agreed that progress is needed urgently.
(Ad)
There aren't many days left on the calendar… and yet the global semiconductor market grew to $466.2 billion – in spite of the pandemic.
Better still, the chip shortage has created huge opportunities for recurring success.
These four tech companies are well-positioned to take advantage of this rapidly growing demand.
"It's been almost two months since the negotiations resumed in Vienna," he said in a statement. He acknowledged that some progress has been made, but that "negotiations cannot continue at such a slow pace while in parallel the Iranian nuclear program is advancing so quickly."
"We will very quickly find ourselves in an untenable situation," Le Drian said.
7 Dividend Stocks that Help Take the Bite Out of Inflation
Inflation and its effects on corporate earnings going forward is the headline story taking over the stock market. The Consumer Price Index rose at a 6.8% pace on a year-over-year (YOY) basis. That marked the fastest rate since June 1982.
And even when the CPI stripped away food and energy prices (because who buys groceries or puts gas in their car?), the CPI was still 4.9% on a YOY level, the highest since 1991.
The market is coming to grips with the idea that not only is inflation is not transitory, but that it's drawn the attention of the Federal Reserve. And after the Federal Reserve's last meeting, investors are starting to see how the market may be affected in 2022.
Growth investors may be able to ride out whatever comes next. The same can't be said for income investors, particularly those who are at or nearing retirement age. The effect of inflation may be having a stark effect on their portfolios at a time when they need money the most.
One great way to offset the effect of inflation in their portfolios is by buying high-quality dividend stocks. And that's the focus of this special presentation. Dividends can help provide a source of income. And for investors who don't need the money right away, reinvesting dividends can allow for a greater total return.
In this special presentation, we'll highlight seven stocks that made the MarketBeat list of 100 dividend-paying companies that received the highest average rating among analysts in the last 12 months.
View the "7 Dividend Stocks that Help Take the Bite Out of Inflation".