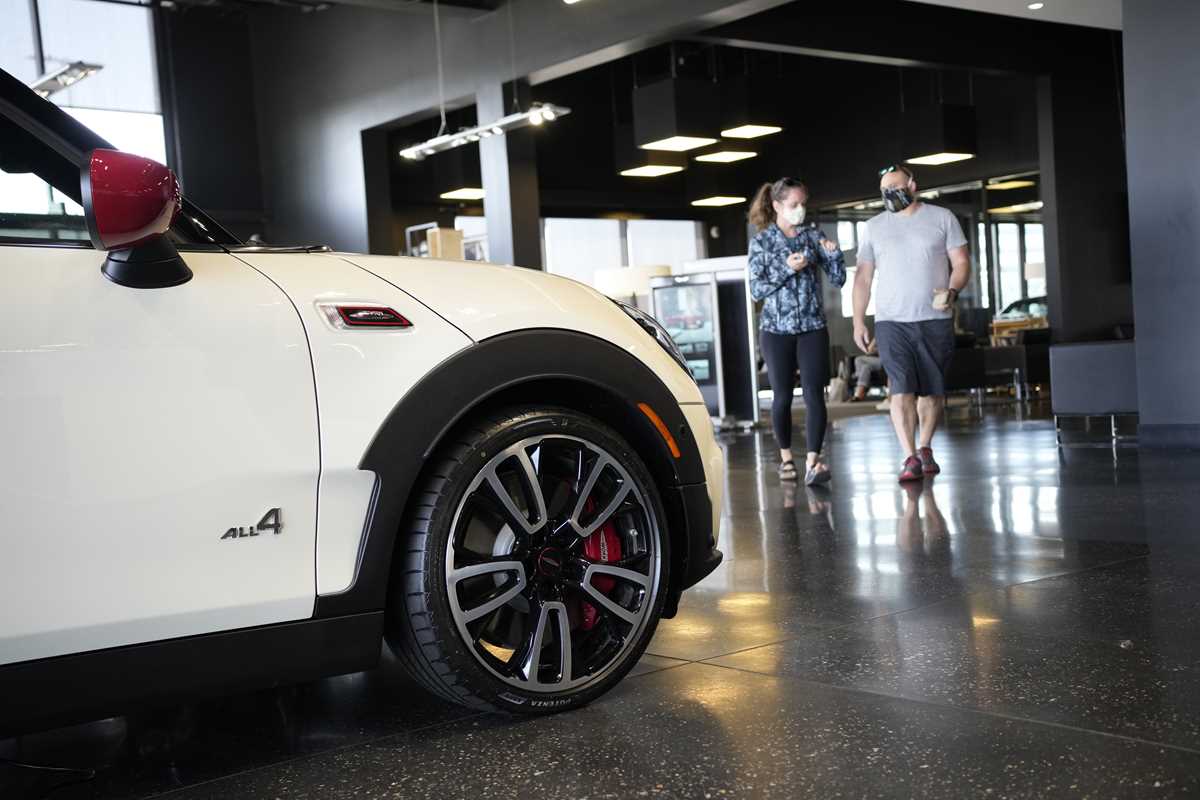 SILVER SPRING, Md. (AP) — U.S. consumer confidence declined this month as persistent inflation and the highly-contagious omicron variant of the coronavirus dinged the optimism of Americans.
The Conference Board, a business research group, said Tuesday that its consumer confidence index — which takes into account consumers' assessment of current conditions and the their outlook for the future — fell to 113.8 in January, from 115.2 in December.
The Conference Board's present situation index, which measures consumers' assessment of current business and labor conditions, rose this month to 148.2 from 144.8 in December. The expectations index, based on consumers' six-month outlook for income, business and labor market conditions, fell in January to 90.8 from 95.4 last month.
Even with the decline, consumer confidence remains high in the U.S. despite surging prices for just about everything. Earlier this month, the Labor Department reported that inflation rose at its fastest pace in nearly 40 years in December, a 7% spike.
Prices rose sharply in 2021 for cars, gas, food and furniture but that has not hindered the U.S. consumer. The proportion of people planning to purchase homes, automobiles, and major appliances over the next six months all increased, the Conference Board said.
Concern over inflation actually declined for the second straight month, but remains elevated after hitting a 13-year high in November, the board said.
On Wednesday, the Federal Reserve is expected to signal its intent to begin raising interest rates in March for the first time in three years, the main mechanism for combatting inflation. Economists have expressed concern that the Fed is already moving too late to combat surging prices.
The prospect of higher rates has investors dumping stocks with abandon. Last week, a sell-off sent the S&P 500 index into its worst weekly loss since the pandemic erupted in March 2020. On Monday, the Dow Jones Industrial Average declined more than 1,000 points before rallying.
(Ad)
There aren't many days left on the calendar… and yet the global semiconductor market grew to $466.2 billion – in spite of the pandemic.
Better still, the chip shortage has created huge opportunities for recurring success.
These four tech companies are well-positioned to take advantage of this rapidly growing demand.
Major U.S. markets are down between 1% and 2% Tuesday.
7 Cyclical Stocks That Make Sense In a Volatile Market
Despite many predictions of an imminent, and possibly severe, market correction, 2021 has been a great year for investors. And that's particularly true for investors who invested in cyclical stocks. This group of stocks was hit hard as the economy ground to a halt. This makes sense because cyclical stocks move in the direction of the broader economy.
But that's also why, almost immediately, many of these stocks began to come back. And with the economy reopening, these stocks continue to show strength.
Cyclical stocks are commonly dividend into companies that manufacture durable goods, non-durable goods, or deliver services. At any given time, one or more of these sectors has outperformed others. But for the most part investors that bought into cyclical stocks continue to be rewarded.
In this presentation, we'll take a look at seven cyclical stocks that are proving to be resilient even as the market continues to baffle even the most experienced investors.
View the "7 Cyclical Stocks That Make Sense In a Volatile Market".