SPX Monitoring Purposes: Sold 7/20/21 SPX 4325= gain .08%; long SPX 6/28/21 at 4290.61.
Monitoring Purposes GOLD: Long GDX on 10/9/20 at 40.78.
Long-Term SPX Monitor Purposes: Neutral.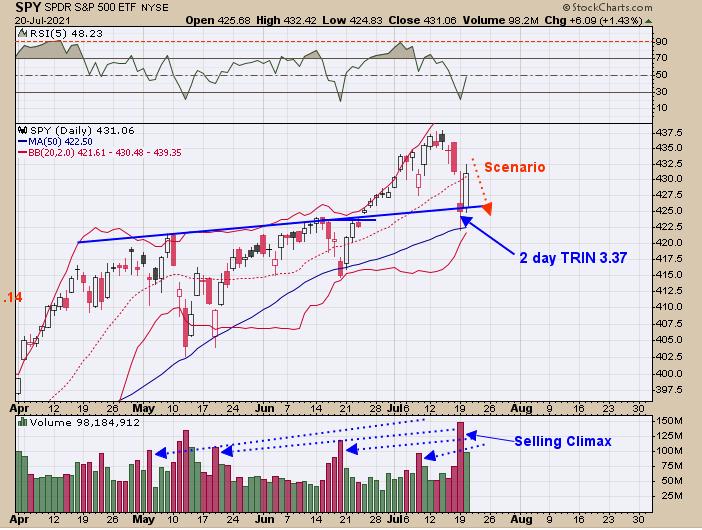 Yesterday, we said "The CNN Fear Creed indicator closed at 18; readings below 20 have marked lows and at least near lows in the past. The 2-day TRIN closed today at 3.37; readings above 3.00 are bullish. The TRIN is showing there is panic in the market. Also, the TICK closed at -209 and the TRIN closed at 1.58 today; that combination has been bullish short term. Today's surge in volume suggests a 'Selling Climax'; most likely, there will be a bounce short term that may find resistance on today's down gap. If the bounce does materialize, we plan to sell our long SPX on that bounce. We will send out a short message on the sell of the long SPX position." We got lucky and everything worked out. With today's lighter volume rally (compared to yesterday's volume), the market may stall here. The last few days has had high volatility, which in turn may lead to low volatility the next few days. Don't see a good setup here right now and will remain flat.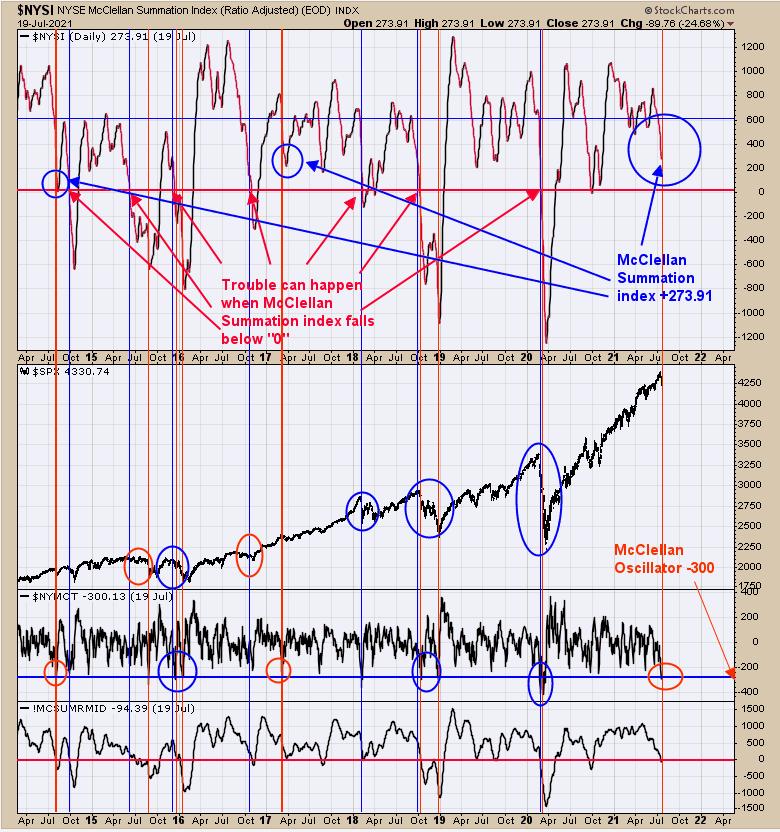 We don't think a large decline is beginning here. Large declines can occur when the NYSE McClellan Summation index falls below "0" and the current close is +273.91. The second window up from the bottom is the NYSE McClellan Oscillator. We marked all cases going back to 2014 with red and blue vertical lines when Oscillator fell below -300 (yesterday's was -300.13). The blue circles times show when the McClellan Oscillator closed below minus 300 and the McClellan Summation index was below 0 (which marked the big declines). The red circles marked the times when Oscillator hit below -300 but the Summation was above 0; these times mark relative mild declines. A big decline can come later, but the market is not set up for a large decline here as the Summation index is far above 0.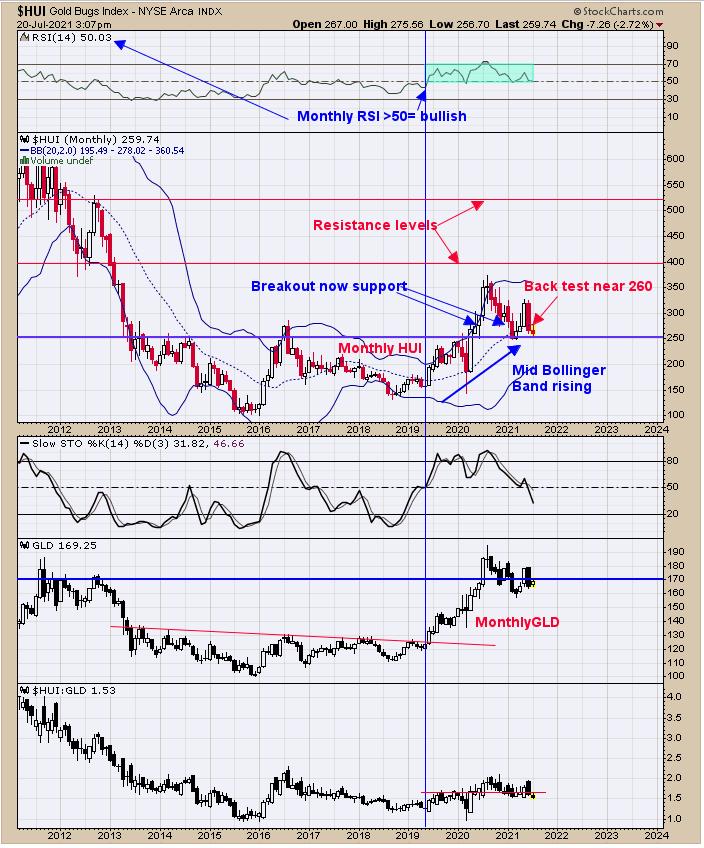 We do not expect major support near 250 on the HUI to be broken for any length of time. What we said last Thursday still goes: "Have to keep an eye on the bigger picture as the bigger timeframes rule the smaller timeframes. Above is the monthly HUI going back to 2011. The middle window is the monthly HUI. HUI broke above 275 resistance back in mid-2020 and is now support. This major support line dates back to 2013 and unlikely to be broken other than for brief periods. The monthly mid-Bollinger bands define the trend for this market, which is rising. Monthly RSI above 50 also suggests the trend is up and the RSI has been above 50 since early 2019. HUI is at major support and waiting for the next rally phase to begin." We updated the blue horizontal trend line and moved it to the March low near 250; it appears to be the logical place for it to be. Back in April 2020, HUI broke above that 250 seven-year trend line and it likely will hold that major support. Though it seems scary, scary is good at bottoms and it what is needed.
Tim Ord,
Editor
www.ord-oracle.com. New Book release "The Secret Science of Price and Volume" by Timothy Ord, buy at www.Amazon.com.
Subscribe to
Top Advisors Corner

to be notified whenever a new post is added to this blog!