So you want to bring your ego with you when it comes to trading? If that's the case, I can almost assure you that at some point the market will be asking you "who's your daddy?"
That's because the market doesn't owe you anything and it loves to confound you at every opportunity.
Now, I'm the first to admit that I don't know, with a high degree of certainty, what's going to happen in the market each and every week.
And it's risk-off environments like we're currently witnessing that make for uncertain trading.
Look friends, with the Fed now on pace to start taking away the "punch bowl" that helped prop up the stock market to historic levels in the months that followed the COVID-19 crisis, traders are going to have to learn how to navigate increasingly turbulent waters.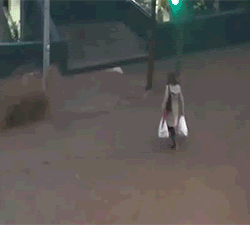 For me, it all starts with simply trading the things that are working, and have been known to work in risk-off environments for decades. 
I do this by using one of the coolest research tools you've ever seen to monitor sector rotation, and today I am going to share with you the latest bullish idea this analysis has generated.
One of the ideas I am watching now may seem boring, but the stock has been showing relative strength over the broader market in recent weeks, and I am seeing a risk/reward setup that limits the potential for a large loss in the event it doesn't work out.
The stock I'm talking about is good ol' Coca-Cola (KO), and the trade I am considering is to purchase the 28 Jan 22 $61 Calls.
Look, I know it's not one of the sexy growth stocks that drives clicks for the financial media.
But with interest rates growing increasingly higher, you absolutely must understand that a lot of the recent high-flying big tech stocks have become quite vulnerable, given how their growth is so dependent on borrowing.
That's ok, though, because the market's ever-changing cycles present new opportunities at every turn.
You just have to know where to look.
When markets turn sour, the "smart money" looks to consumer staples stocks
There are several relationships that have been exploited by traders for years, but today we're going to focus on perhaps the most important and most reliable, and that's the one between consumer cyclicals and consumer staples.
Companies that are considered to be consumer staples are those whose products are in demand, no matter what the economic conditions are like. 
The kinds of companies included on this list are supermarkets, drug store chains, consumer goods, and cigarette manufacturers, just to name a few.
Then there are consumer cyclicals (also known as consumer discretionary stocks), which are companies whose products benefit from strong economic environments when consumers have more discretionary income to spend on non-essential products.
The kinds of companies included on this list are home improvement stores, apparel manufacturers, gaming stocks, and restaurant chains.
Now that you understand the basic fundamentals of this relationship, it's important to understand how each sector's leadership characteristics change in certain key market environments.
Consumer Staples are showing relative strength
From a relative perspective, the consumer staples sector has shown firm improvement vs. the benchmark S&P 500 over the past several weeks, all while underperformance by the consumer cyclicals sector has accelerated.
How can traders see this change in leadership? Well, perhaps the most dynamic way is by using something called a Relative Rotation Graphs (RRG), a current example of which is shown in Figure 1 below.
Figure 1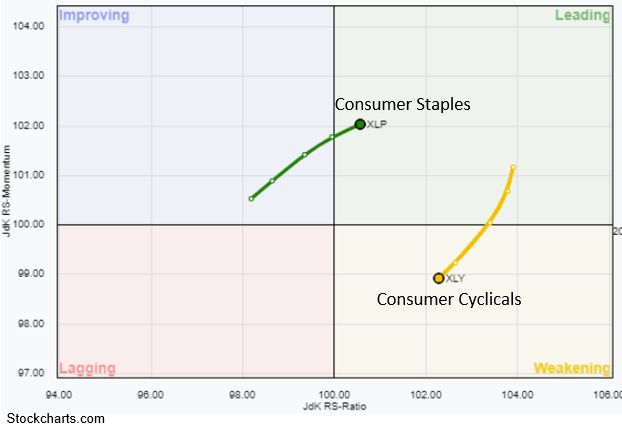 For today's example, I've only highlighted the consumer staples and consumer cyclicals sectors in Figure 1 above, so that we can focus on this relationship and ignore the 9 remaining S&P 500 sector ETFs.
Relative Rotation Graphs are readily available on a number of charting platforms these days. Today, we'll be using the version provided on the Stockcharts.com website.
Stockcharts.com describes RRG charts as follows: RRG® charts show you the relative strength and momentum for a group of stocks. Stocks with strong relative strength and momentum appear in the green Leading quadrant. As relative momentum fades, they typically move into the yellow Weakening quadrant. If relative strength then fades, they move into the red Lagging quadrant. Finally, when momentum starts to pick up again, they shift into the blue Improving quadrant.
The clockwise rotation that occurs on these charts is very effective when prospective buyers of stock are trying to find the early stages of a leadership cycle, or when prospective sellers are trying to identify early signs of deterioration.
In both cases, the comparisons are made relative to some benchmark, which in most cases is the S&P 500.
Though not visible in Figure 1 above, the S&P 500 ETF (SPY) is positioned at the origin (where the X and Y axis meet).
The long tails left behind by each sector are meant to help the viewer track each sector's relative path over the past 4 weeks (1 month) of trading.
The message that is being signaled by this graph right now is that the smart money has been pulling money out of more risky consumer cyclical stocks and moving that money into safer consumer staples stocks.
If you're wondering why smart money accounts wouldn't just exit the market altogether if they felt conditions were going to be bearish, it's because many large funds are mandated to maintain large market exposure (low cash levels) at all times, so they prefer to hide out in consumer staples stocks when things are turbulent.
To drive this point home, let's have a little history lesson, shall we?
What you see on the right-hand side of these next 2 charts are snapshots of the most significant S&P 500 pullbacks of the past 5 years, while the left-hand chart shows the rotation that was occurring between these two sectors at the time.
First, Figure 2 shows the rotation during the initial leg down of the S&P 500's late 2018 decline.
Figure 2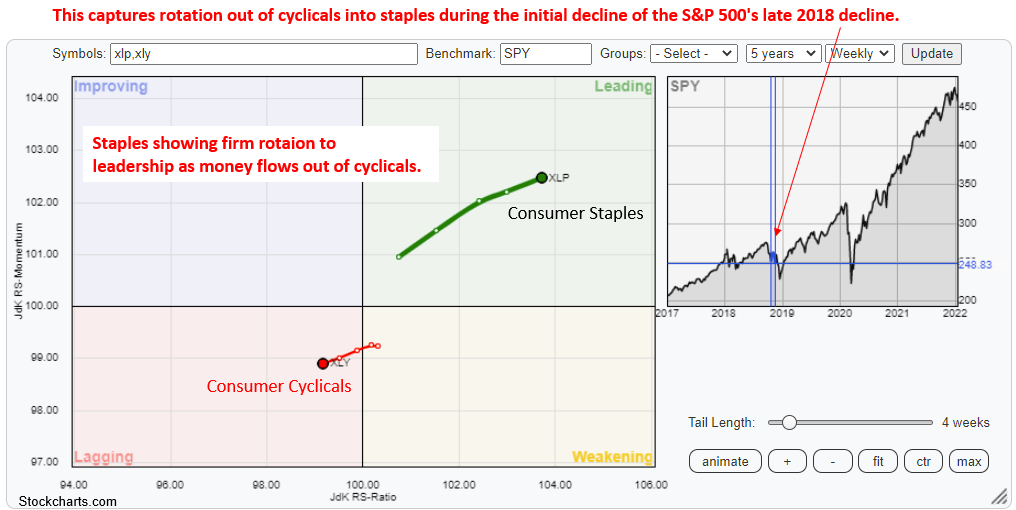 Next, Figure 3 shows the rotation during the S&P 500's early-2020 COVID collapse.
Figure 3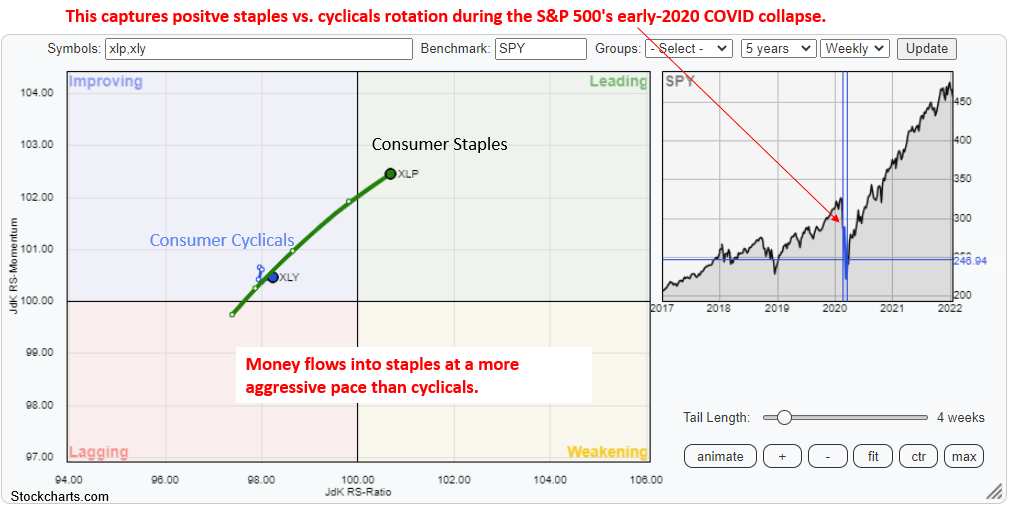 Notice any similarities to what's been going on recently in Figure 1 above?
That's right, folks, rotation into consumer staples and out-of-consumer cyclicals show that the smart money is concerned, and that's why I like the idea of playing like the big boys with a trade idea in the consumer products giant, KO.
How am I playing this trade, technically?
First of all, I am going with the $61 calls because I like the Theta to Delta relationship shown below. Note: This is a screenshot of the options chain I discussed with members in one of my Tuesday evening videos.
Figure 3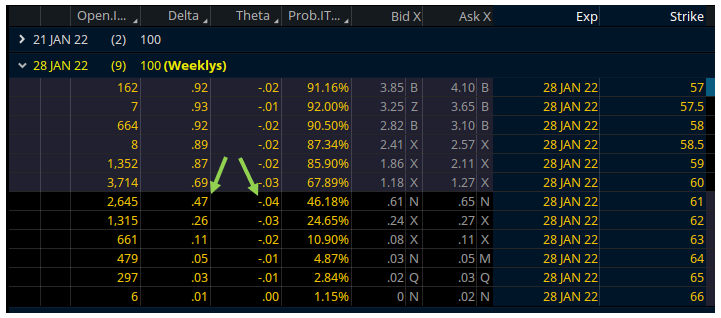 In other words, for every $1 the share price of KO moves, this option will move $0.47 (Delta), and right now the option is only losing $0.04 per day due to the passage of time (Theta). 
Finally, I like that my risk is just below me in the $60.75 to $60.45 area, which KO has been straddling so far on Wednesday morning.
If  KO happened to show a more convincing breach of this support, I would simply have to say "sayonara" to this idea.
And on the upside, my potential reward is back at the previous highs of $61.45. 
That's greater than risking 1 to make 4, my friends, and if I can find a risk/reward setup that strong in such a solid company at a time when the market's direction is unclear, that's the kind of trade I am willing to make right now. 
Let's have a great rest of the week and until next time…