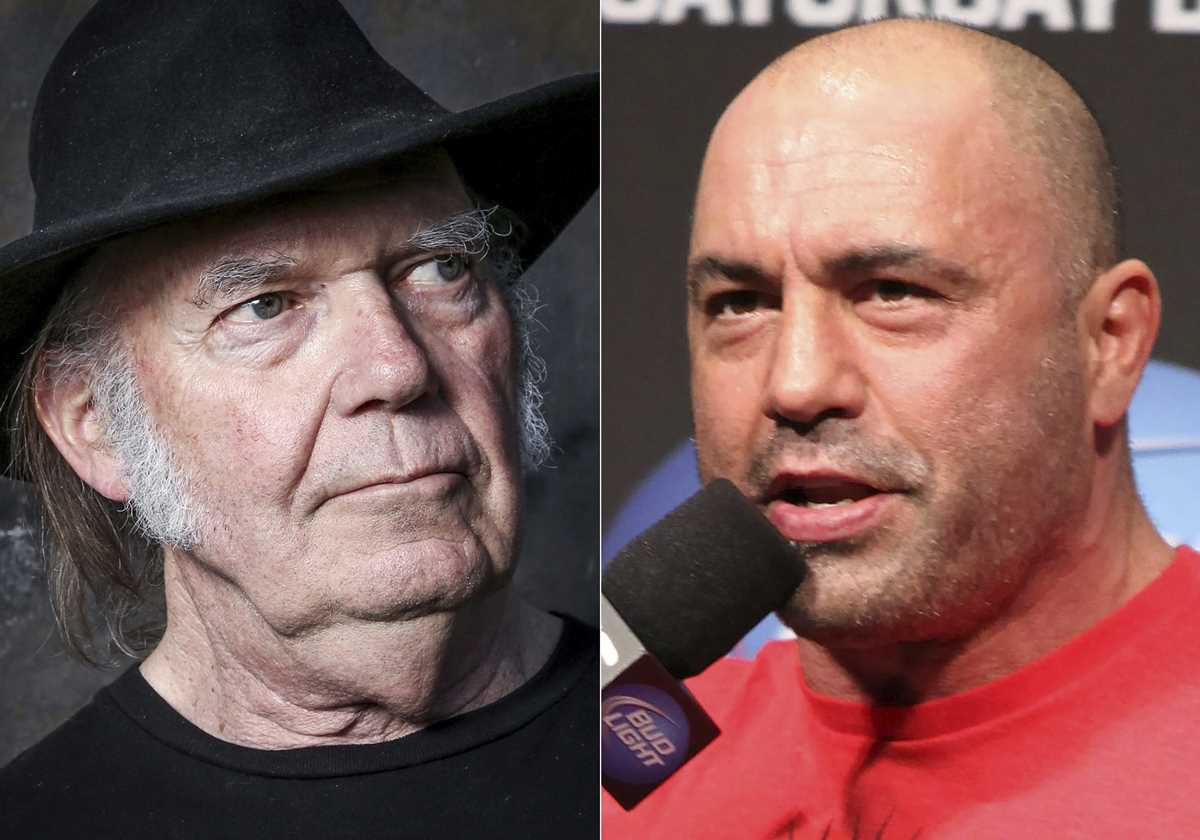 NEW YORK (AP) — It's Neil Young vs. Joe Rogan for the allegiance of Spotify. Or is it?
The veteran rocker fired off a public missive to his management on Monday, demanding that they remove his music from Spotify in protest of Rogan spreading misinformation about the COVID-19 vaccine on his popular podcast, "The Joe Rogan Experience."
But the letter soon disappeared from view on Young's website, and on Tuesday afternoon music fans could still listen to "Heart of Gold," "Rockin' in the Free World" and other Young hits on the popular streaming site.
Representatives for Young and Spotify did not return repeated requests for comment on Tuesday.
In his letter, Young made the request because Spotify "is spreading false information about vaccines — potentially causing death to those who believe the disinformation," according to Rolling Stone magazine.
Young said Spotify "can have Rogan or Young. Not both."
It may not be a choice Young's management would want to force. Rogan's podcast is wildly popular on Spotify. The 76-year-old rocker's music has more than 6 million listeners, according to his artist's page on Spotify.
Rogan provoked anger within the past month for interviewing Dr. Robert Malone on his podcast. Malone, an infectious disease specialist, has been banned for Twitter for spreading misinformation but has become a hero in the anti-vaccine community. He has questioned the COVID-19 vaccine's effectiveness and falsely suggested that millions of people had been hypnotized into believing that the vaccines work to prevent serious disease.
A group of doctors and scientists have spread a petition online calling on Spotify to adopt policies to prevent the spread of misinformation on their platform.
Young has never been a rabid fan of Spotify. At his insistence, much of his music was removed from the platform for several months beginning in 2015 because of his concerns about audio quality.
(Ad)
There aren't many days left on the calendar… and yet the global semiconductor market grew to $466.2 billion – in spite of the pandemic.
Better still, the chip shortage has created huge opportunities for recurring success.
These four tech companies are well-positioned to take advantage of this rapidly growing demand.
7 Solar Stocks That Are Ready to Shine
Investors have been frustrated by the renewable energy sector for decades. One reason for that is the technology was not ready for prime time, at least not in a cost-effective way. That is changing rapidly and with it the opportunity to be found in renewable energy stocks. However, within the renewable energy sector, wind and solar remain on top of the pyramid. The focus of this unique presentation is on solar stocks that are ready to break out.
Yes, President Biden's infrastructure plan could have a significant impact on the sector. But interest in solar power has been growing for several years. One reason is that it's become a national play. Solar used to be limited to areas like California and Florida, but improvements in the efficiency of the technology and the ability to capture the power for future use make it a viable option in more areas of the country. As evidence of this, the total amount of solar capacity installed throughout the country can power approximately 18 million homes.
As renewable energy options continue to expand, so will the opportunity for growth in solar. This is the beginning of what stands to be a multi-year trend. And there's no time like the present for opportunistic investors to get involved.
View the "7 Solar Stocks That Are Ready to Shine".