MYR Group Inc. MYRG announced that its unit MYR Group Construction Canada, Ltd. has acquired all issued and outstanding shares of capital stock of Powerline Plus Ltd. and its affiliate ("Powerline Plus Companies"). This acquisition will strengthen MYR Group's transmission and distribution business as well as expand geographical reach.
Transmission and Distribution ("T&D") revenues of MYR Group in recent years have been 100% organic. Since 2017, T&D revenues have improved at a 10.2% CAGR, primarily due to an increase in revenues from small to medium-sized transmission and distribution projects. This acquisition will further broaden the revenue base of MYR Group. Over the past two years, Powerline Plus Companies has generated average annual revenues of $80 million, which will definitely boost MYR Group's top line. 
Strong Long-Term Outlook for T&D
The T&D business prospects look bright, with the American Jobs Plan's proposal to invest $100 billion in strengthening the power grid and another $46 billion in clean energy generation. Per the U.S. Energy Information Administration, major utilities in the United States have been spending more on delivering electricity to customers and less on producing it. After adjusting for inflation, utilities spent 2.6 cents per kilowatt hour (kWh) on electricity delivery in 2010, using 2020 dollars. In comparison, spending on delivery witnessed 65% year-over-year growth to 4.3 cents/kWh in 2020.
U.S. Utilities, which have to withstand very harsh weather conditions, are currently spending a substantial amount on developing an advanced electricity network. Strengthening of transmission and distribution network lowers the possibility of blackouts and allows quick restoration of power compared with the earlier storm outages.
FirstEnergy FE, among others, continues to make regular investments in strengthening its transmission and distribution networks. FirstEnergy's 'Energizing the Future' plan is aimed at investing up to $5.15 billion during the 2020-2023 time period for enhancing and expanding regulated transmission capabilities. The Zacks Consensus Estimate for FE's 2021 earnings has moved up 1.9% in the past 90 days. The current dividend yield of FE is 3.78%, better than the Zacks S&P 500 composite's average of 1.32%.
Another utility Xcel Energy XEL has a well-chalked-out plan to strengthen transmission and distribution operations. XEL plans to spend $26 billion during the 2022-2026 time frame. These investments are aimed at strengthening and expanding its transmission, distribution, electric generation and renewable projects. The Zacks Consensus Estimate for XEL's 2021 earnings indicates year-over-year growth of 6.5%. The current dividend yield of XEL is 2.69%..
Price Performance
In the past six months, shares of MYR Group have returned 26%, outperforming the sector's 8.5% rally.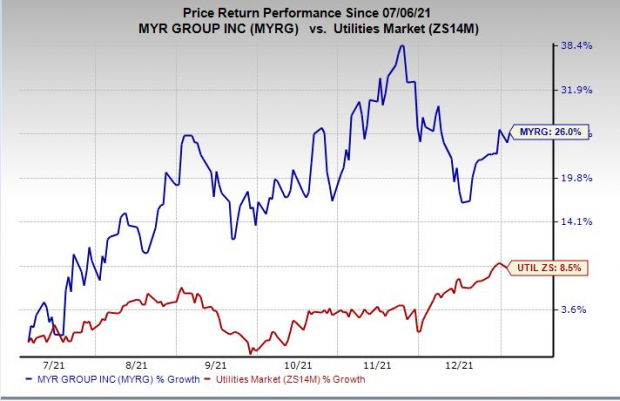 Image Source: Zacks Investment Research
Zacks Rank & Another Key Pick
MYR Group currently has a Zacks Rank #2 (Buy). Another top-ranked stock in the same sector is IDACORP Inc. IDA. You can see the complete list of today's Zacks #1 Rank (Strong Buy) stocks here.
The long-term (three to five years) earnings growth of IDACORP is projected at 4.4%. IDACORP delivered an average earnings surprise of 5.2% in the last four quarters. The Zacks Consensus Estimate for 2022 earnings per share of IDACORP has moved up 0.4% in the past 60 days.
Infrastructure Stock Boom to Sweep America
A massive push to rebuild the crumbling U.S. infrastructure will soon be underway. It's bipartisan, urgent, and inevitable. Trillions will be spent. Fortunes will be made.
The only question is "Will you get into the right stocks early when their growth potential is greatest?"
Zacks has released a Special Report to help you do just that, and today it's free. Discover 5 special companies that look to gain the most from construction and repair to roads, bridges, and buildings, plus cargo hauling and energy transformation on an almost unimaginable scale.
Download FREE: How to Profit from Trillions on Spending for Infrastructure >>
Click to get this free report
Xcel Energy Inc. (XEL): Free Stock Analysis Report
FirstEnergy Corporation (FE): Free Stock Analysis Report
IDACORP, Inc. (IDA): Free Stock Analysis Report
MYR Group, Inc. (MYRG): Free Stock Analysis Report
To read this article on Zacks.com click here.
Zacks Investment Research
The views and opinions expressed herein are the views and opinions of the author and do not necessarily reflect those of Nasdaq, Inc.