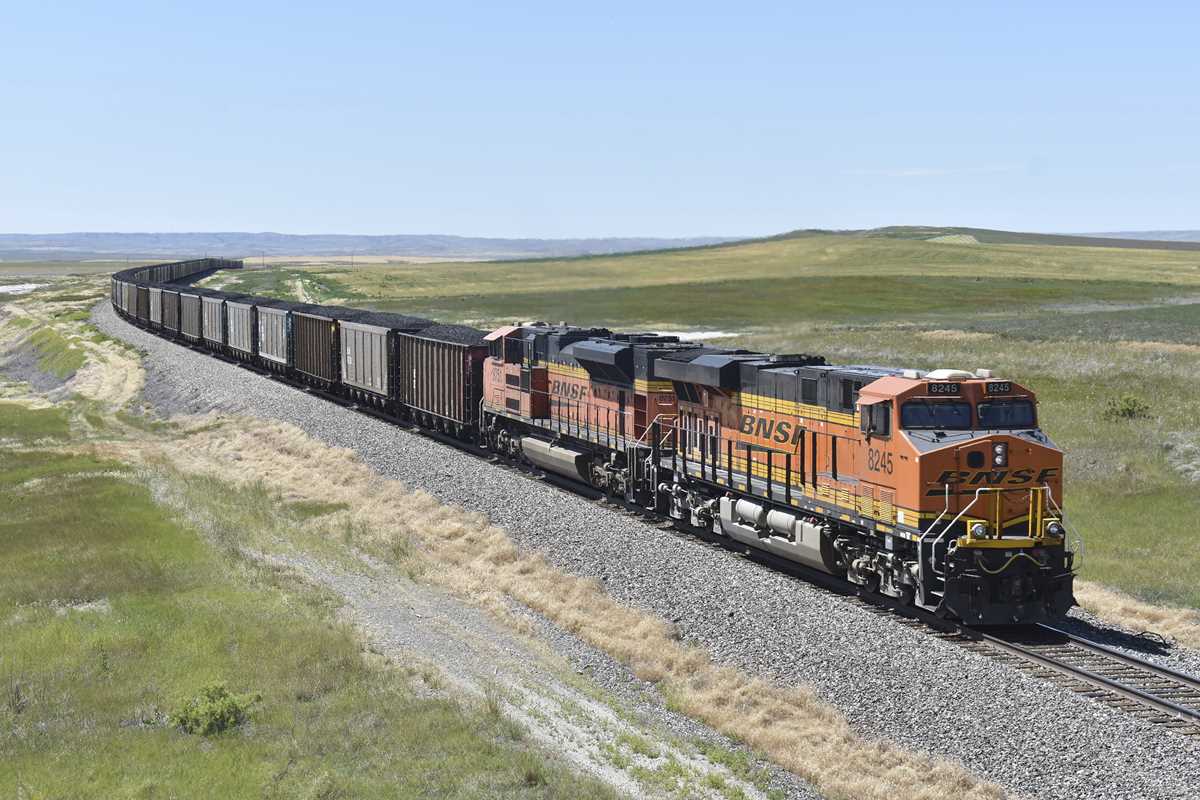 BNSF railroad's two biggest unions that represent 17,000 workers won't be able to go on strike over a new attendance policy they say would penalize employees for missing work for any reason.
A federal judge ruled Tuesday that a strike would likely violate federal law because under their contracts railroad unions aren't allowed to strike over minor disputes. Instead, those must be settled through arbitration or negotiation.
Judge Mark Pittman said a strike would hurt BNSF and could cause significant damage to the economy because of the role the railroad plays in delivering all kinds of goods.
"The record further establishes that a strike would exacerbate our current supply-chain crisis — harming the public at large, not just BNSF," Pittman wrote.
The Fort Worth, Texas-based railroad went to court earlier this month after the Brotherhood of Locomotive Engineers and Trainmen, and the Transportation Division of the International Association of Sheet Metal, Air, Rail, and Transportation unions said they were considering going on strike to protest the new policy that is set to go into effect on Feb. 1.
The unions said they were surveying their members about whether they would support a strike because the stringent new rules would sanction workers for taking sick time or time off to attend a family member's funeral. They said the rules would provide an incentive for workers to come in when they are sick even if they have COVID-19 symptoms and punish local union officials who take time off to represent workers at disciplinary hearings.
Union officials didn't immediately respond Tuesday to questions about the ruling.
BNSF said it came up with the new system to modernize its policy and give its employees an easier way to see where they stand under the rules. The railroad didn't immediately respond to the ruling.
BNSF is one of the nation's largest railroads, and it operates 32,500 miles (52,300 kilometers) of track in 28 western states.
(Ad)
It's scientific breakthroughs like this that give investors like you the chance to get in early on companies that will revolutionize the world…
And you may only get one opportunity in life to invest in something this big…
7 Risk-Off Stocks to Buy as Inflation Remains at Record Levels
Inflation has gone from a transitory problem that would take care of itself to an existential threat that is moving the Federal Reserve to take swift, aggressive action. In January 2022, the Consumer Price Index (CPI) showed inflation in the United States was at its highest level since 1982.
And the market is reacting predictably with what appears to be a shift from risk-on to risk-off assets. This is having a negative effect on many stocks, particularly in the tech sector, that are no longer justifying their extended valuations.
But investors are also seeing a drop in cryptocurrency prices and other speculative assets. This may be a short-term phenomenon, but if you're an investor looking at how to make money in 2022; it's time to get a little defensive. But playing defense doesn't mean accepting mediocre growth. It simply means moving into stocks and sectors that are likely to benefit from high inflation and rising interest rates.
That's the focus of this special presentation. We invite you to consider these seven risk-off stocks that look like strong candidates to increase in value even as inflation remains high.
View the "7 Risk-Off Stocks to Buy as Inflation Remains at Record Levels".