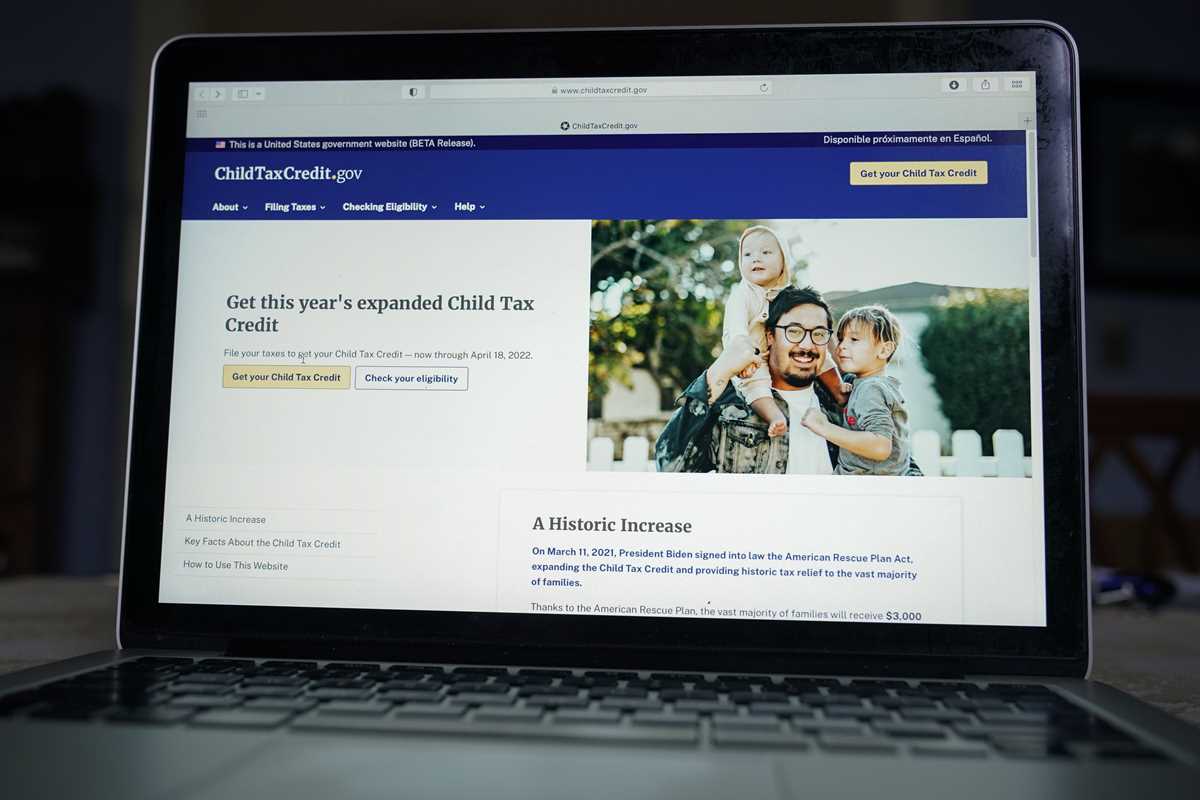 WASHINGTON (AP) — The government launched a revamped website Monday — the first day of tax filing season — to help people who were eligible for the expanded tax credit under last year's pandemic relief bill claim the second half of the payment they were due.
The site, ChildTaxCredit.gov, features a new tool that directs taxpayers to filing options, eligibility information and instructions on how to get the credit, according to the Treasury Department. Both virtual and in-person support will be provided in multiple languages.
The child tax credit was expanded as part of President Joe Biden's $1.9 trillion coronavirus relief package, which included a monthly payment of as much as $300 per child. Since the payments were first disbursed in July, Treasury and the IRS have issued roughly $93 billion to tens of millions of families, according to Treasury. And in December, 61 million children received the enhanced benefits.
Families received half of their expanded 2021 credit on a monthly basis and the other half will be received once they file their taxes. The enhanced portion of the child tax credit program has since lapsed. For tax year 2022, the child tax payment reverts to $2,000 annually per qualifying child, which in 2022 expands age eligibility to 17 year-olds.
The Biden administration has proposed extending the enhanced child tax credit for an additional year in its roughly $2 trillion social spending plan, but that bill is stalled in Congress.
"As tax filing season begins, Treasury's priority is ensuring that eligible families are able to receive the full Child Tax Credit," Deputy Secretary of the Treasury Wally Adeyemo said in a written statement.
"This relief has helped families pay for essentials when they needed it most and by getting the second half, or the full amount, of the credit millions of children can continue to benefit," he said.
(Ad)
This guide will help you identify and execute an options trading strategy that fits your specific needs and risk profile.
Take your trading to the next level with the Options Strategy Guide.
On a Monday call with reporters and tax professionals, IRS Commissioner Chuck Rettig reiterated the importance of taxpayers filing accurate tax forms electronically and the efficiency of requesting direct deposit refunds.
7 Fintech Stocks That Will Continue To Disrupt Traditional Banking
In April 2021, JPMorgan Chase CEO Jamie Dimon described fintech companies as one of the "enormous competitive threats" to traditional banking. And with good reason. Fintech (short for financial technology) is not just "digital banking." It's a different approach to banking that traditional banks will not be able to replicate by outspending their competitors.
You see, cryptocurrency is getting a lot of attention for the way it's disrupting the monetary system. But before there was bitcoin (CCC: BTC-USD), there was fintech.
What started out as a way to send money from one person to another without the need for a bank (i.e. peer-to-peer lending) has morphed into much more. Today, individuals and businesses can get loans, invest, and pay bills conveniently and securely. And they can do so without ever having to set foot into a bank.
Financial technology is democratizing finance for many individuals who have been left behind by the traditional banking system. The "unbanked" is a huge target audience. But whereas fintech started as reaching those that were unbanked out of necessity; it is cultivating a new audience among those who are going unbanked by choice.
In this special presentation, we'll look at seven fintech companies that are leading in this space today and will do so well into the future.
View the "7 Fintech Stocks That Will Continue To Disrupt Traditional Banking".