Inflation Cooled Slightly in July
The government released the inflation report for July this morning. According to the number-crunchers, inflation rose 0.47% last month. That's the lowest reading since February. It's nearly half the rate we saw in June. Over the past year, inflation is up by 5.28%. That's just slightly below the 12-month number we had last month.
Core inflation rose by 0.33% last month. That's also the slowest rate since February. Wall Street had been expecting an increase of 0.4%. In the past year, core inflation is running at 4.23%.
Used car and truck prices, which rose rapidly between April and June as Americans looked to vacation, gained just 0.2% in July after a climb of more than 10% in the prior month.

Apparel prices were flat after a 0.7% increase in June, and transportation services prices actually declined after a pop of more than 1% at the end of the second quarter.

The Federal Reserve has been keeping a close eye on inflation reports since it's the central bank's job to maximize employment and keep prices stable.

Chairman Jerome Powell and other officials acknowledge the recent acceleration in prices but believe that the inflation is "transitory" and that prices won't continue to increase at their current pace for too long.

"Today's CPI data should help assuage investor fears that the Fed is too laid-back about inflation pressures," wrote Seema Shah, chief strategist at Principal Global Investors. "The details of the data release suggest some easing in the reopening and supply-shortage driven boost to prices, and tentatively suggests that inflation may have peaked. Investors in the transitory camp will feel slightly vindicated."
Here's the 12-month inflation rate. Headline is in black and the core rate is in red.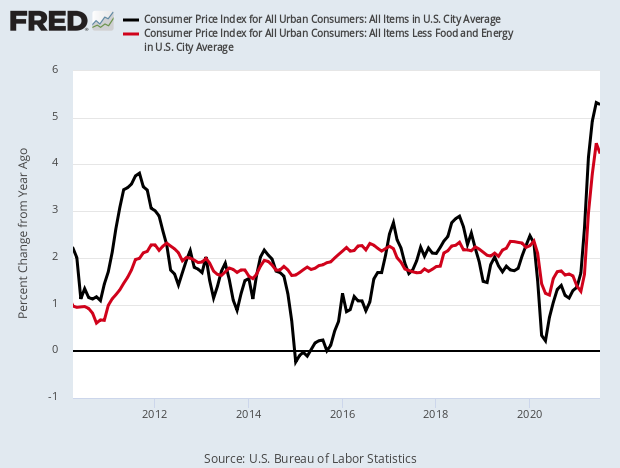 By the way, this chart also shows you how much more stable core prices are which is why economists like to track it.
Here's an interesting chart. This is Simply the CPI, but notice the big notch in the early part of last year. That's behind much, but not all, of the increase in inflation.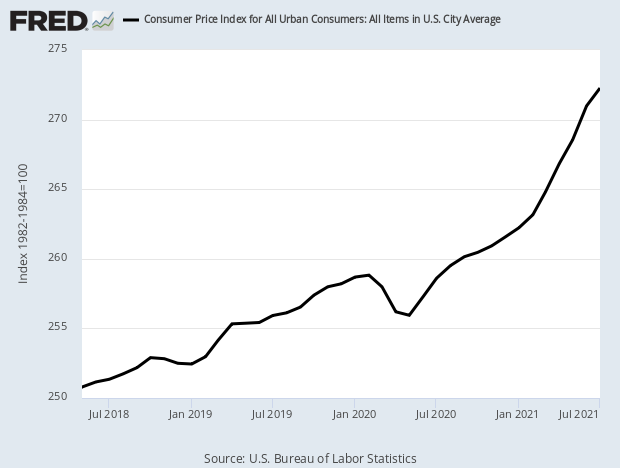 Stats folks call this the base effect. Whenever you hear someone claimed that "X is up so much percent," you need to ask, up since when? If we measure of the inflation rate since January 2020 then inflation isn't so bad.
Posted by Eddy Elfenbein on August 11th, 2021 at 10:56 am
The information in this blog post represents my own opinions and does not contain a recommendation for any particular security or investment. I or my affiliates may hold positions or other interests in securities mentioned in the Blog, please see my Disclaimer page for my full disclaimer.