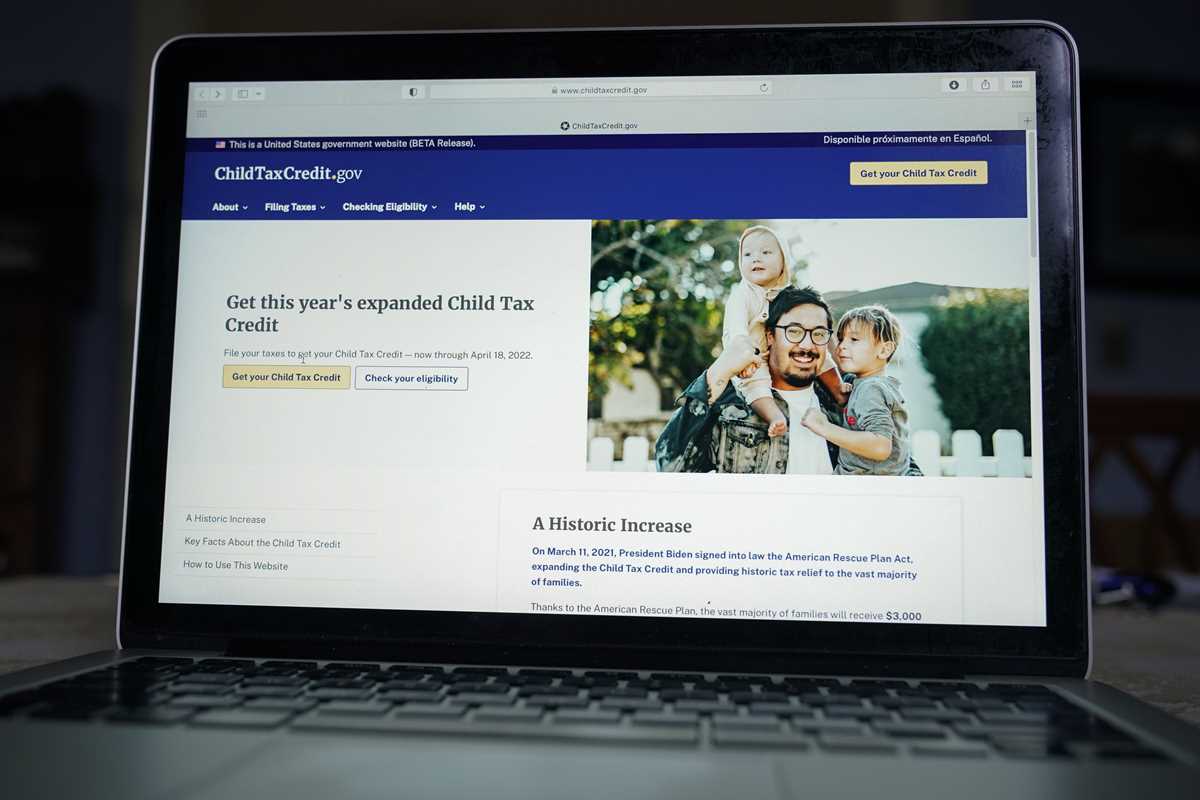 WASHINGTON (AP) — The federal government launched a revamped website Monday — the first day of tax filing season — to help people who were eligible for the expanded child tax credit under last year's pandemic relief bill claim the second half of the payment they were due.
The site, ChildTaxCredit.gov, features a new tool that directs taxpayers to filing options, eligibility information and instructions on how to get the credit, according to the Treasury Department. Both virtual and in-person support will be provided in multiple languages.
The child tax credit was expanded as part of President Joe Biden's $1.9 trillion coronavirus relief package, which included a monthly payment of as much as $300 per child. Since the payments were first disbursed in July, Treasury and the IRS have issued roughly $93 billion to tens of millions of families, according to Treasury. And in December, 61 million children received the enhanced benefits.
Families received half of their expanded 2021 credit on a monthly basis and the other half will be received once they file their taxes. The enhanced portion of the child tax credit program has since lapsed. For tax year 2022, the child tax payment reverts to $2,000 annually per qualifying child, which in 2022 expands age eligibility to 17 year-olds.
The Biden administration has proposed extending the enhanced child tax credit for an additional year in its roughly $2 trillion social spending plan, but that bill is stalled in Congress.
"As tax filing season begins, Treasury's priority is ensuring that eligible families are able to receive the full Child Tax Credit," Deputy Secretary of the Treasury Wally Adeyemo said in a written statement.
"This relief has helped families pay for essentials when they needed it most and by getting the second half, or the full amount, of the credit millions of children can continue to benefit," he said.
(Ad)
It's scientific breakthroughs like this that give investors like you the chance to get in early on companies that will revolutionize the world…
And you may only get one opportunity in life to invest in something this big…
On a Monday call with reporters and tax professionals, IRS Commissioner Chuck Rettig reiterated the importance of taxpayers filing accurate tax forms electronically and the efficiency of requesting direct deposit refunds.
7 Pharmaceutical Stocks to Buy For a Healthy Portfolio in 2022
One year ago, investors expected 2021 to be a huge year for pharmaceutical stocks. The bullish perspective was that as vaccines rolled out and the economy reopened, investors would shift from biotech stocks to traditional pharmaceutical stocks.
But the Delta variant has kept Covid-19 top of mind for many investors. While it's true that some pharmaceutical stocks were part of the vaccine race, other players in the space have not performed as well as was hoped. Case in point, as of October 6, 2021, the iShares U.S. Pharmaceuticals ETF (NYSEARCA:IHE) is up only 9.7% in the last 12 months. And if you bought shares of the fund at the beginning of the year, you have no growth to show for your patience.
There are reasons beyond Covid-19 to consider when assessing the disappointing performance of pharmaceutical stocks. One is the current political climate which is making no secret of its desire to reshape the healthcare industry. And it has the pricing practices of "big pharma" firmly in its crosshairs.
However, the pharmaceutical sector is still loaded with quality stocks for investors who are willing to accept the inherent risk. And that's the focus of this special presentation. In the next few minutes, we'll take a look at seven pharmaceutical stocks that
are ready to make strong moves forward in 2022.
View the "7 Pharmaceutical Stocks to Buy For a Healthy Portfolio in 2022".