Exxon Mobil Corporation's XOM Baytown refinery in Texas continues to produce at reduced rates after a fire broke out at a reformer feed hydrotreater on Dec 23, per a report by Reuters.
The Baytown refinery is one of the largest refining and petrochemical facilities in the United States, with a crude processing capacity of 560,500 barrels per day.
The fire took place at the refinery's hydrotreater unit, which had been closed due to a leakage in the bypass line. Reformer feed hydrotreater eliminates sulfur and other contaminants from partially refined oil to produce refined products.
The fire affected a gasoline-producing unit, which could affect premium gasoline prices. The fire could hinder the Baytown refinery's  production for months, in turn, affecting the gasoline supply when the U.S. refining capacity has already been reduced. Beside this, it affected a toluene benzene unit and a nearby cooling tower.
Although there were no fatalities, a few workers were hospitalized with injuries. While workers were relocated from that refinery section, the rest of the facility continued its operations. The cause of the fire has not yet been determined.
This is the second fire incident at the Baytown refinery in two years. In 2019, a fire broke out at a polypropylene recovery unit, in which plastic is purified for production. ExxonMobil's rigorous focus on cost reductions is expected to have increased dangers as routine maintenance of facilities has been reduced to increase profits.
A lawsuit has been filed against ExxonMobil as a group of nearby residents claimed that their houses were destroyed by the oil refinery fire. ExxonMobil is currently reviewing and assessing the claims in the suits. It might face additional lawsuits if officials realize that the company has been negligent in its operations or maintenance at the Baytown refinery.
Company Profile & Price Performance
Headquartered in Irving, TX, ExxonMobil is one of the leading integrated energy companies in the world.
Shares of ExxonMobil have outperformed the industry in the past three months. The XOM stock has gained 10.4% compared with the industry's 1.6% growth.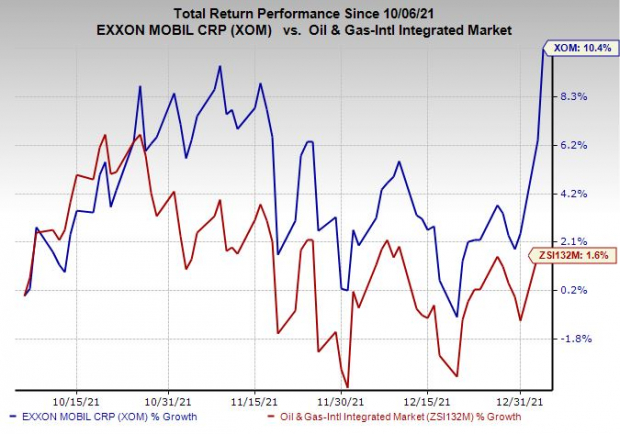 Image Source: Zacks Investment Research
Zacks Rank & Key Picks
ExxonMobil currently carries a Zack Rank #3 (Hold).
Investors interested in the energy sector might look at the following companies that presently flaunt a Zacks Rank #1 (Strong Buy). You can see the complete list of today's Zacks #1 Rank stocks here.
Sunoco LP SUN is a master limited partnership that distributes motor fuel to roughly 10,000 customers, including independent dealers, commercial customers, convenience stores and distributors. In the United States, Sunoco is among the largest motor fuel distributors in the wholesale market by volume. By 2020, the partnership sold 7.1 billion gallons of motor fuel.
In the past six months, shares of Sunoco have gained 14.5% compared with the industry's growth of 9.7%. SUN currently has a Zacks Style Score of A for Value and Growth, and B for Momentum. For 2021, Sunoco expects fuel volumes of 7.25-7.75 billion gallons, indicating a rise from the 2020 reported level of 7.09 billion gallons.
Murphy USA Inc. MUSA, based in El Dorado, AR, is a leading independent retailer of motor fuel and convenience merchandise in the United States. MUSA's unique high-volume, low-cost business model helps it retain high profitability even in the fiercely competitive retail environment.
In the past six months, shares of Murphy USA have gained 50.1% compared with the industry's growth of 4.9%. MUSA is committed to returning excess cash to shareholders through continued share buyback programs. As part of the initiative, the fuel retailer recently approved a repurchase authorization of up to $1 billion, which will commence once the existing $500-million authorization expires and be completed by Dec 31, 2026. The move underscores MUSA's sound financial position and commitment to rewarding shareholders.
TotalEnergies SE TTE has one of the best production growth profiles among the oil super majors, characterized by an upstream portfolio, with above industry-average exposure to the faster-growing hydrocarbon-producing regions of the world. TTE is making regular investments to expand the renewable operation and strives to achieve net-zero emission by 2050.
In the past six months, shares of TotalEnergies have gained 16.9% compared with the industry's growth of 10.3%. TTE currently has a Zacks Style Score of A for Value and B for Growth. TotalEnergies manages long-term debt efficiently and tries to maintain the same at manageable levels. Its debt to capital has been declining in the past few years.
Infrastructure Stock Boom to Sweep America
A massive push to rebuild the crumbling U.S. infrastructure will soon be underway. It's bipartisan, urgent, and inevitable. Trillions will be spent. Fortunes will be made.
The only question is "Will you get into the right stocks early when their growth potential is greatest?"
Zacks has released a Special Report to help you do just that, and today it's free. Discover 5 special companies that look to gain the most from construction and repair to roads, bridges, and buildings, plus cargo hauling and energy transformation on an almost unimaginable scale.
Download FREE: How to Profit from Trillions on Spending for Infrastructure >>
Click to get this free report
Exxon Mobil Corporation (XOM): Free Stock Analysis Report
Sunoco LP (SUN): Free Stock Analysis Report
Murphy USA Inc. (MUSA): Free Stock Analysis Report
TotalEnergies SE Sponsored ADR (TTE): Free Stock Analysis Report
To read this article on Zacks.com click here.
Zacks Investment Research
The views and opinions expressed herein are the views and opinions of the author and do not necessarily reflect those of Nasdaq, Inc.