The electric vehicle (EV) revolution is speeding up, with traditional automakers leaving no stone unturned to establish a strong foothold in this domain. Last week, General Motors GM made a series of announcements, aimed at accelerating the mass adoption of EVs in a virtual keynote at the CES 2022 event. The U.S. auto giant provided an insight into the major electrification strides it has been taking in its quest to achieve its vision of creating a world with zero crashes, zero emissions and zero congestion. The star of General Motors' presentation at the event was the global debut of the 2024 Chevrolet Silverado EV.
Meanwhile, crosstown rival Ford F also turned heads with a bullish EV announcement, stating that it plans to nearly double the F-150 Lightning e-pickup output amid high demand. Going by impressive preorder numbers and output ramp-up plans, Ford's electric F-150 Lightning truck shows immense promise and it wouldn't be wrong to say that the F-150 Lightning is the most anticipated vehicle of 2022.
German auto biggie BMW AG BAMXF revved up its EV game with an all-electric iX M60 SUV debut last week. EV startup Nikola Corporation NKLA inked twin agreements as it seeks to accelerate the implementation of heavy-duty electric transportation trucks. Canada-based electric bus manufacturer GreenPower Motor GP also made it to the top stories with an important delivery update.
Key Headlines of the Week Gone By
General Motors unveiled 2024 Chevrolet Silverado EV pickup at CES 2022. The vehicle is based on General Motors' Ultium EV platform and packed with the power and capability expected of Chevy Trucks. The truck will be available in two configurations, an RST First Edition and a fleet-oriented Work Truck ("WT") model, both flaunting a cutting-edge mix of performance, capability, technology, and style. The first variant to arrive in spring 2023 will be the Silverado EV WT, with the largest battery pack promising a range of 400 miles on a full charge and up to 10,000 pounds of trailering capacity.
Beyond the Silverado EV, Chevrolet noted that it will expand its EV fleet in fall 2023 to include the Equinox EV, an affordable, functional, compact SUV with a price starting from $30,000 in the United States. In addition, a larger Chevrolet Blazer EV SUV will also hit the markets in 2023. At the CES event, General Motors' commercial EV business — BrightDrop — announced the addition of Walmart to its expanding roster of customers. It revealed that it has inked an agreement with Walmart to supply 5,000 EV600 and smaller EV410 electric delivery vans. BrightDrop also announced the extension of its relationship with FedEx, which has signed an agreement with the former, reserving priority production for 2,000 electric delivery vans over the next few years. 
Ford announced plans to double its production goal for the Electric F-150 Lightning model at the Rouge Electric Vehicle Center in Dearborn. The company now plans to produce 150,000 such vehicles per year to cater to the surging demand of the electric-version of America's best-selling truck. Currently, reservations for the F-150 Lightning are at 200K. Deliveries of the 2022 F-150 Lightning pickup will commence this spring at a starting price of $39,974.
On a further positive note, Ford's breakthrough Mustang Mach-E spearheaded its position as the country's second bestselling full-electric SUV, with sales totaling 27,140 in 2021. Ford electrified vehicles segment had its cape flying, with sales achieving new records for December. A total of 12,284 electrified vehicles were sold in December, up 121% yearly. F currently carries a Zacks Rank #2 (Buy). You can see the complete list of today's Zacks #1 Rank (Strong Buy) stocks here.
GreenPower announced the delivery of four EV Star Cab and Chassis (EV Star CCs) to Transportation Commodities, Inc. ("TCI"). The four vehicles delivered to TCI had procured funding from the most recent financing round of California's Hybrid and Zero-Emission Truck and Bus Voucher Incentive Project (HVIP), occurring on Oct 28, 2021. GreenPower is ecstatic about successfully using the California HVIP funds for building its vehicles and maintaining unparalleled turnaround times between funding requests and vehicle delivery. This showcases the company's unrivaled efficiency and distinguishes GreenPower from its HVIP peers.
The latest delivery also symbolizes the beginning of a revolutionary partnership between GreenPower and TCI. Further, GreenPower is optimistic about being able to contribute to TCI's electrification efforts with its purpose-built cab and chassis platform. As TCI shifts gears to a carbon-neutral service fleet, the EV Star CC will serve as a reliable zero-emission solution to its unique needs.
BMW unveiled its upcoming, higher-performance version of the iX SUV — the M60 — at the CES 2022. This is the German automaker's second EV to be released under its racing-inspired M branding after the i4 M50 hit the market last year. This iX M60 is a 6000-pound beast, being the most powerful version of BMW's iX platform, which combines the company's flagship iX podium with the M-series nameplate's focus on performance. Scheduled to hit the market in June 2022, the iX M60 is integrated with the same massive 111.5 kilowatt-hour battery pack and dual electric motor setup as the standard iX.
The iX M60 boasts 610 horsepower, 811 pound-feet of torque and a 0 to 60 mph acceleration time of 3.6 seconds when in launch control. Owing to the boosted power and additional features, BMW has priced the iX M60 at $106,095, including a $995 shipping charge, making it approximately $22,000 more expensive than the iX xDrive50.
Nikola collaborated with Saia LTL Freight, a less-than-truckload company, and USA Truck Inc., a leading capacity solutions provider. Saia signed a Letter of Intent (LOI) to purchase or lease 100 Nikola Tre heavy-duty battery electric vehicles (BEVs) following the successful completion of a demonstration program. Under the demonstration program, which is supposed to begin in first-half 2022, three BEV trucks are to be operated in distinct locations across the Saia network, and deliveries of 100 production vehicles are scheduled to be carried out between 2022 and 2024, with the initial 25 targeted for this year.
In another development for NKLA's Tre BEV products, USA Truck also inked an LOI for the initial purchase of 10 Nikola Tre BEV trucks from Thompson Truck Centers, a member of the Nikola Corporation sales and service dealer network. The agreement is based on a fleet-as-a-service model, wherein Thompson will provide sales, service, maintenance and energy infrastructure required to operate Nikola Tre BEV trucks. Deliveries are expected to begin from the first half of this year. Per the deal, the companies can exercise the option of purchasing an additional 90 trucks over the next two years.
Price Performance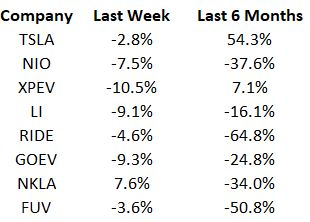 Image Source: Zacks Investment Research
What's Next in the Space?
Stay tuned for announcements of upcoming EV models and any important updates from the red-hot industry.
Zacks' Top Picks to Cash in on Artificial Intelligence
This world-changing technology is projected to generate $100s of billions by 2025. From self-driving cars to consumer data analysis, people are relying on machines more than we ever have before. Now is the time to capitalize on the 4th Industrial Revolution. Zacks' urgent special report reveals 6 AI picks investors need to know about today.
See 6 Artificial Intelligence Stocks With Extreme Upside Potential>>
Click to get this free report
Ford Motor Company (F): Free Stock Analysis Report
General Motors Company (GM): Free Stock Analysis Report
GreenPower Motor Company Inc. (GP): Free Stock Analysis Report
Bayerische Motoren Werke AG (BAMXF): Free Stock Analysis Report
Nikola Corporation (NKLA): Free Stock Analysis Report
To read this article on Zacks.com click here.
Zacks Investment Research
The views and opinions expressed herein are the views and opinions of the author and do not necessarily reflect those of Nasdaq, Inc.