Ford's F shares are currently at a 20-year high, largely driven by a massive electric vehicle (EV) push. The U.S. auto giant was the biggest S&P 500 gainer yesterday, rallying 11.6% to close the session at $24.31. The upside came after the automaker doubled its production goal for the Electric F-150 Lightning model amid high demand.
Ford has been on a tear since the appointment of Jim Farley as the CEO in October 2020. Since Farley took the helm, shares of Ford have skyrocketed more than 200%. Currently valued at more than $97 billion, Ford tops the market cap of its crosstown rival General Motors GM.
Investors have been appreciative of Farley's promise to communicate more openly. Quoting the CEO, "My commitment to each of you is transparency, including purposeful, measurable key performance indicators so you can objectively track our progress."
Also, Farley's Ford+ restructuring plan, with a hard pivot toward EVs, has cheered investors and raised optimism amid the changing dynamics of the auto industry. The Ford+ plan focuses on increasing profitability, exploring the e-mobility future and enhancing customer experience. The management change has given the company a major push into the domain of green vehicles, which has contributed to its catapulting shares. 
Going All Out to Demonstrate EV Prowess
Ford is hitting all the right notes toward an electrified future and is well positioned to gain a competitive edge in the EV space with its upcoming launches that include zero-emissions pickup and van. The aggressive electrification push, with planned spending of around $30 billion by 2025 and the target of 40% of its global vehicle volume to become all-electric by the end of the decade, is indeed commendable. Over the next two years, Ford aims to become the #2 EV maker in North America and then attain the top spot with huge investments in battery and vehicle production coming onstream. By 2024, Ford targets a global production capacity of 600,000 battery electric vehicles annually.
Mustang Mach-E — which is giving tough competition to Tesla TSLA — is already boosting Ford's sales. Ford commenced deliveries of Mustang Mach-E in late 2020 and the vehicle got a great reception from customers. Last month, the company confirmed plans to triple the production for the Mustang Mach-E. Amid the soaring popularity of the model, Ford expects to manufacture 200,000-plus units per year for North America and Europe by 2023.
Ford made another bullish EV announcement yesterday, stating that it plans to nearly double the F-150 Lightning e-pickup output at the Rouge Electric Vehicle Center in Dearborn. The company now plans to produce 150,000 such vehicles per year to cater to the surging demand of the electric-version of America's best-selling truck. Currently, reservations for the F-150 Lightning are at 200K. Deliveries of the 2022 F-150 Lightning pickup will commence this spring at a starting price of $39,974. Ford's all-electric van, the E-Transit, will also go on sale early this year.
Meanwhile, Ford is establishing the biggest and the most technically advanced auto production facility in Tennessee, wherein it plans to assemble the next-gen F-Series e-pickup. Further, Ford is on track to create twin battery plants in Kentucky and a technologically-advanced mega campus in Tennessee. It is collaborating with SK Innovation, with a combined investment of $11.4 billion (with Ford's share being $7 billion) for the same. The investment is part of the Ford+ turnaround plan to make the automaker's operations more profitable and create a niche in trending sectors such as autonomous, electric, and connected vehicles. 
Approximately $5.6 billion of the total outlay will be allotted for building an all-new mega campus called Blue Oval City in Stanton, TN. The investment will create roughly 6,000 new jobs and revamp vehicle and battery designing, manufacturing, and recycling. Joining the Blue Oval City is a planned $5.8-billion, 1,500-acre BlueOvalSK battery manufacturing campus in Glendale, KY, which is targeted to commence operations in 2025. The twin lithium-ion battery plants on the site will create 5,000 jobs and are intended to supply Ford's North American assembly plants with locally-assembled batteries for powering the next-generation electric Ford and Lincoln vehicles.
The Top Performing Auto Stock of 2021
Ford had a breakthrough 2021, with its shares rallying nearly 140% during the year — a remarkable achievement for a non-tech stock. It was the top-performing auto stock of the year, having handily outperformed other legacy automakers, emerging EV startups and EV behemoth Tesla.
With a market cap of more than $1.1 trillion, shares of Tesla rose 49.8% in 2021. Currently carrying a Zacks Rank #2 (Buy), TSLA has a long-term expected EPS growth rate of 37.5%. Ford's closest peer, General Motors soared 40.8% for the year. GM also carries a Zacks Rank #2 currently and has a long-term expected EPS growth rate of 9.85%.
In comparison, Ford's triple-digit percentage gain in share price (precisely 136.3%) is an exceptional feat, especially at a time when the auto industry is suffering from global chip concern. Wall Street is buying Ford's EV future. Ford's long-term prospects look positive on the back of accelerated efforts to transition to smart, connected and green vehicles, which is the need of the hour. The firm's scalable EV architectures and connected car tech poise it for endless growth opportunities. Investors should note that Ford expects an 8% adjusted profit margin before interest and taxes in 2023. 
2021 Price Performance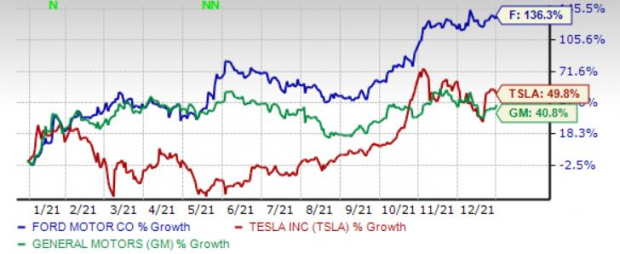 Image Source: Zacks Investment Research
Hold the Temptation to Cash Out the Gains
While Ford is at a 20-year high, don't get enticed to sell the stock in haste to encash your profits. Stay invested in the stock if you already own it, as this rally has much more upside potential. As for others, don't wait for a better entry point and add the stock to your portfolio at the current levels to reap handsome rewards.
The raised full-year 2021 guidance, thanks to strong demand and order book for the recently launched vehicles as well as upcoming models, instills optimism in the stock. It is to be noted that 2022 wholesale volumes of Ford are likely to grow 10% year over year. As proof of its strong cash flow generating ability, Ford has restored dividends, after suspending the payout for more than a year and a half amid the COVID-19 crisis. Rising investments in emerging technologies including EVs, self-driving vehicles and software-as-a-service capabilities have also been cheered by investors. Its restructuring initiatives in the European market have been yielding results. 
With so much going in favor of the stock, Ford is a screaming buy right now. Currently sporting a Zacks Rank #1 (Strong Buy), the company's long-term expected EPS growth rate is pegged at 24.7%. You can see the complete list of today's Zacks #1 Rank stocks here.
Infrastructure Stock Boom to Sweep America
A massive push to rebuild the crumbling U.S. infrastructure will soon be underway. It's bipartisan, urgent, and inevitable. Trillions will be spent. Fortunes will be made.
The only question is "Will you get into the right stocks early when their growth potential is greatest?"
Zacks has released a Special Report to help you do just that, and today it's free. Discover 5 special companies that look to gain the most from construction and repair to roads, bridges, and buildings, plus cargo hauling and energy transformation on an almost unimaginable scale.
Download FREE: How to Profit from Trillions on Spending for Infrastructure >>
Click to get this free report
Ford Motor Company (F): Free Stock Analysis Report
General Motors Company (GM): Free Stock Analysis Report
Tesla, Inc. (TSLA): Free Stock Analysis Report
To read this article on Zacks.com click here.
Zacks Investment Research
The views and opinions expressed herein are the views and opinions of the author and do not necessarily reflect those of Nasdaq, Inc.