Discover Financial Services DFS inked a deal with The National Bank of Serbia to boost global acceptance for Discover Global Network cardholders in Serbia. With this tie-up, Discover, Diners Club International, PULSE and Network Alliance cardholders can now use their cards on the DinaCard payment network.
DinaCard is the largest card scheme of the Republic of Serbia, controlled by the National Bank of Serbia.
The network consisting of Point-of-Sale (POS), e-commerce platforms and ATMs in the region, solidifies the presence of DFS. The deal is in line with the National Bank of Serbia DinaCard's aim to increase the convenience of cashless payment options for customers. This is expected to enhance their shopping experiences as well.
Discover Global Network cardholders can now access more than 111,000 POS terminals and above 3,000 ATMs in Serbia.
The initiative seems well-timed as people are now relying more on digital payments for most day-to-day activities.
Other Initiatives
This is not the first time that Discover Financial took such an initiative. It constantly forges strategic alliances to expand its global reach and boost its portfolio. DFS constantly works on integrating choices on a wider scale for its customers to enrich their experience and provide better payment options.
Moreover, demand for cashless payments has also been surging for a while, given the COVID-19 pandemic, which acted as a catalyst for the same. As the coronavirus outbreak persistently forces people to stay indoors and increasingly resort to cashless payments, transactions in the form of cards or e-wallets gradually became a norm. Digital payments are now actively rising in the United States as more and more people are making transactions online.
People are opting for touch-free transactions across different merchants and platforms, even for daily requirements, such as groceries, pharmacies, gaming, recharges and utility payments, etc. With these initiatives, consumers are getting to experience streamlined processes, which include a consistent, interoperable checkout method at physical stores.
The industry players are gaining traction as digital payments are becoming the new normal.
Other payment companies thriving on cashless payment options include Global Payments Inc. GPN, Synchrony Financial SYF and Visa Inc. V.
The shift from cash to a contactless payments industry is well underway and will further flourish, with newer technologies being embraced by its players. Per Statista, digital payments are expected to reach $1,511,684 million this year. Moreover, total transaction value is projected to witness a CAGR of 12.14% during the 2022-2025 forecast period.
Shares of this presently Zacks Rank #3 (Hold) player have risen 23.9% in a year's time compared with the industry's rally of 29.9%. You can see the complete list of today's Zacks #1 Rank (Strong Buy) stocks here.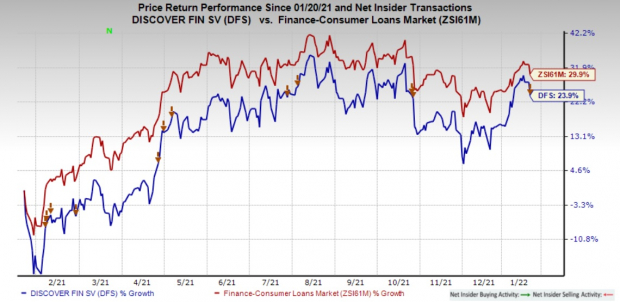 Image Source: Zacks Investment Research
7 Best Stocks for the Next 30 Days
Just released: Experts distill 7 elite stocks from the current list of 220 Zacks Rank #1 Strong Buys. They deem these tickers "Most Likely for Early Price Pops."
Since 1988, the full list has beaten the market more than 2X over with an average gain of +25.3% per year. So be sure to give these hand-picked 7 your immediate attention. 
See them now >>
Click to get this free report
Visa Inc. (V): Free Stock Analysis Report
Discover Financial Services (DFS): Free Stock Analysis Report
Global Payments Inc. (GPN): Free Stock Analysis Report
Synchrony Financial (SYF): Free Stock Analysis Report
To read this article on Zacks.com click here.
Zacks Investment Research
The views and opinions expressed herein are the views and opinions of the author and do not necessarily reflect those of Nasdaq, Inc.