California Water Service Group's CWT strategic acquisitions and investments to upgrade or replace its water infrastructure will help the utility serve its growing customer base, efficiently. Also, rate hikes are aiding CWT's performance.
Tailwinds
California Water Service continues to explore opportunities for extending its regulated and non-regulated water and wastewater activities for which it invested $207.7 million in the first nine months of 2021 after spending $298.7 million in 2020. Its capital expense estimate for 2021 is in the $270-$300 million range.    
CWT is undertaking acquisitions and replacement projects to enhance the reliability of its services and broaden its business scope. Such efforts improved its customer base 4.3% year over year in 2020.
Other water utilities like American Water Works Co. AWK, Middlesex Water MSEX and Essential Utilities WTRG are also investing heavily in bettering system reliability and efficiently serving their growing customer bases.
American Water Works plans to invest $13-$14 billion in the 2022-2026 time period and $28-$32 billion in the 2022-2031 time frame. For 2022, AWK plans to make a capital investment worth $2.5 billion, with a major portion to be utilized for infrastructure improvements in Regulated businesses.
Middlesex Water has plans to invest $200 million during the 2022-2023 time period to strengthen its water and wastewater infrastructure to provide customer services in a safe, reliable and efficient manner.
In 2021, Essential Utilities aims to invest $550 million in the water segment and $450 million in the natural gas segment. WTRG plans to invest $3 billion from 2021 through 2023 to fortify its operations and efficiently serve the expanding customer base.
California Water Service has been benefiting from rate hikes since the beginning of 2014. The rate base is expected to improve from $1.82 billion in 2021 to $2.74 billion in 2025. The ongoing expansion of the rate base will positively impact its earnings over the long term.
The utility also boasts ample liquidity to meet its near-term obligations. As of Sep 30, CWT had $140.4 million of cash and additional current capacity of $420 million on the lines of credit, subject to meeting its borrowing conditions.
Woes
More than 93.8% California Water Service's operations are concentrated within the state itself, exposing it to various hazards. CWT's aging water infrastructure requires constant investments in maintaining the reliability of its services. The risk involving contamination of water supplied by CWT is a concern.
Zacks Rank & Price Performance
This currently Zacks Rank #3 (Hold) player has gained 13.8%, outperforming the industry's rise of 3.8% in the past year. You can see the complete list of today's Zacks #1 Rank (Strong Buy) stocks here.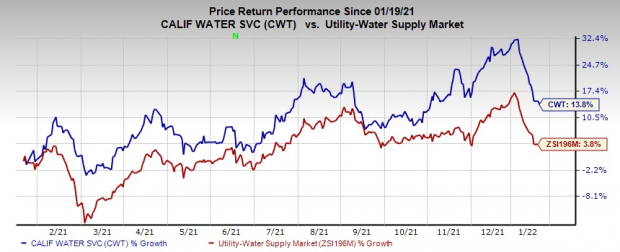 Image Source: Zacks Investment Research
7 Best Stocks for the Next 30 Days
Just released: Experts distill 7 elite stocks from the current list of 220 Zacks Rank #1 Strong Buys. They deem these tickers "Most Likely for Early Price Pops."
Since 1988, the full list has beaten the market more than 2X over with an average gain of +25.3% per year. So be sure to give these hand-picked 7 your immediate attention. 
See them now >>
Click to get this free report
American Water Works Company, Inc. (AWK): Free Stock Analysis Report
California Water Service Group (CWT): Free Stock Analysis Report
Middlesex Water Company (MSEX): Free Stock Analysis Report
Essential Utilities Inc. (WTRG): Free Stock Analysis Report
To read this article on Zacks.com click here.
Zacks Investment Research
The views and opinions expressed herein are the views and opinions of the author and do not necessarily reflect those of Nasdaq, Inc.