It was a bloodbath out there the day of the Fed minutes. Our central bank announced they would be hiking rates sooner than expected, and the market threw a hissy fit! 
Growth stocks that had already been taken to the woodshed over the last 6 months puked out even more.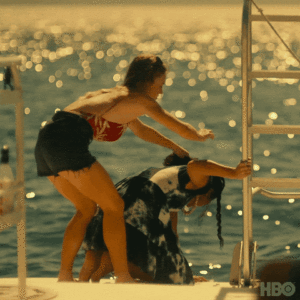 However, when others are panicking, I see opportunity! I think the selloff on Thursday might have finally put in a short-term capitulation bottom in many stocks. 2 of my favorites for a short-term bounce coming into next week are HUBS and GOOGL. I've got a few more on that list that I gave to subscribers live and in real-time yesterday.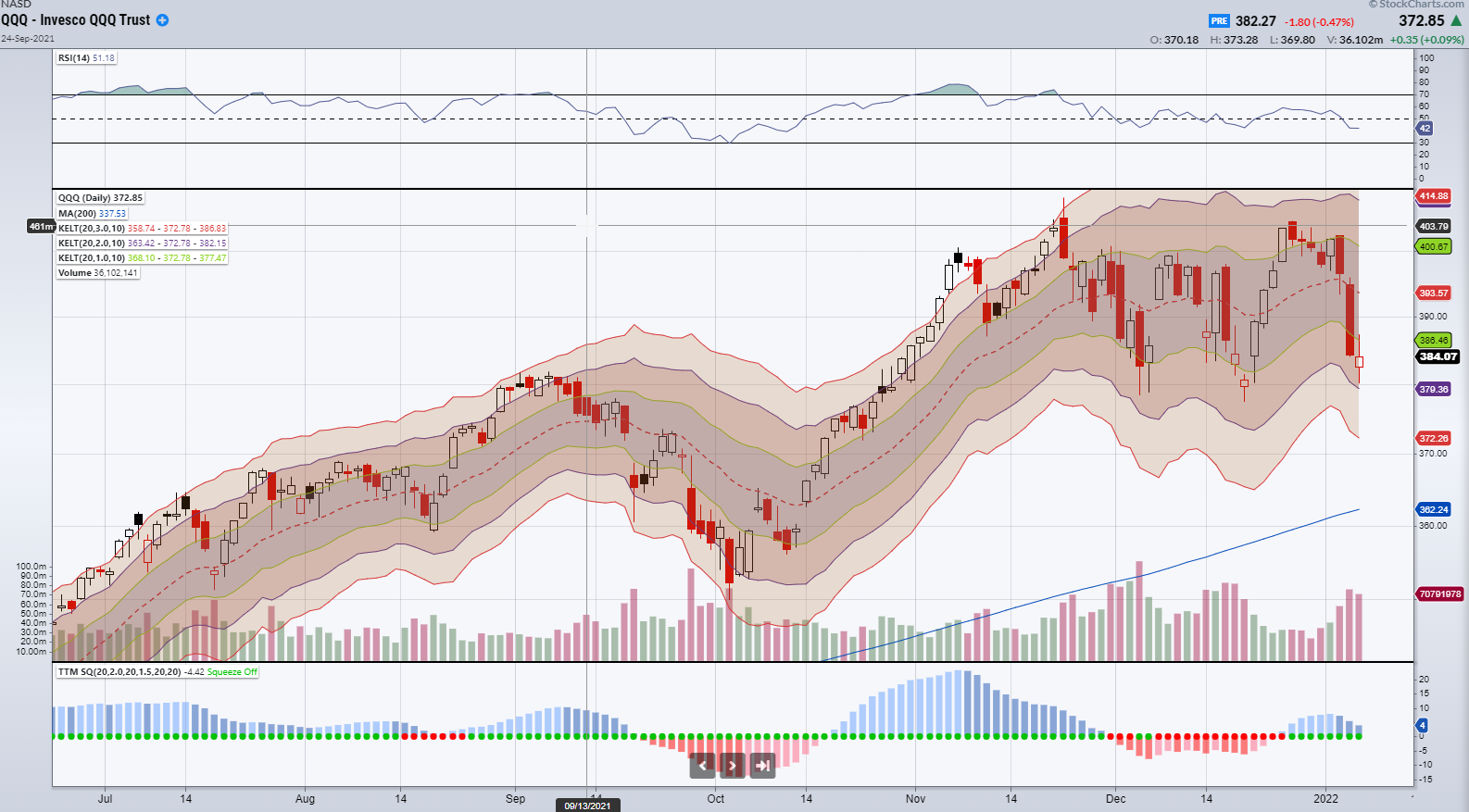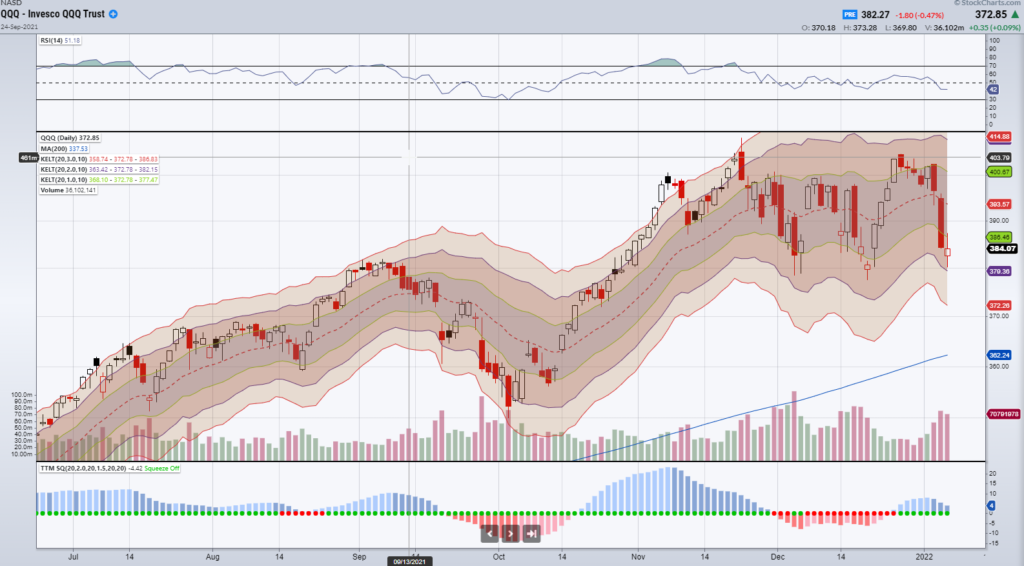 The QQQ's ripped to $400 and straight back down to the $380s to start the year and found some buying at support yesterday. $380 was a major area of prior resistance and has been a major support level twice now since December. I expect this level to hold, at least in the short term. There are many bargains out there now, with this selloff shaking the tree and testing the resolve of investors. I think Institutions will start to come back in at these levels as many stocks are in extreme oversold territory. Here are 2 of my plays below.  
HUBS
HUBS have dropped dramatically. I don't understand why this stock is down so much. Yes, it's a tech stock, and I know they have been clobbered, but it is not your typical dog meat hyper-growth stock that ARKK is made up of, for example. This company is different from stocks like UPST and AFRM. It is a large-cap CRM software-type stock, not high growth!
Fundamentals
HubSpot, Inc. provides a cloud-based customer relationship management (CRM) platform for businesses in the Americas, Europe, and the Asia Pacific. The company's CRM platform includes marketing, sales, service, and content management systems, as well as integrated applications, such as search engine optimization, blogging, website content management, messaging, chatbots, social media, marketing automation, email, predictive lead scoring, sales productivity, ticketing and helpdesk tools, customer NPS surveys, analytics, and reporting. 
Technicals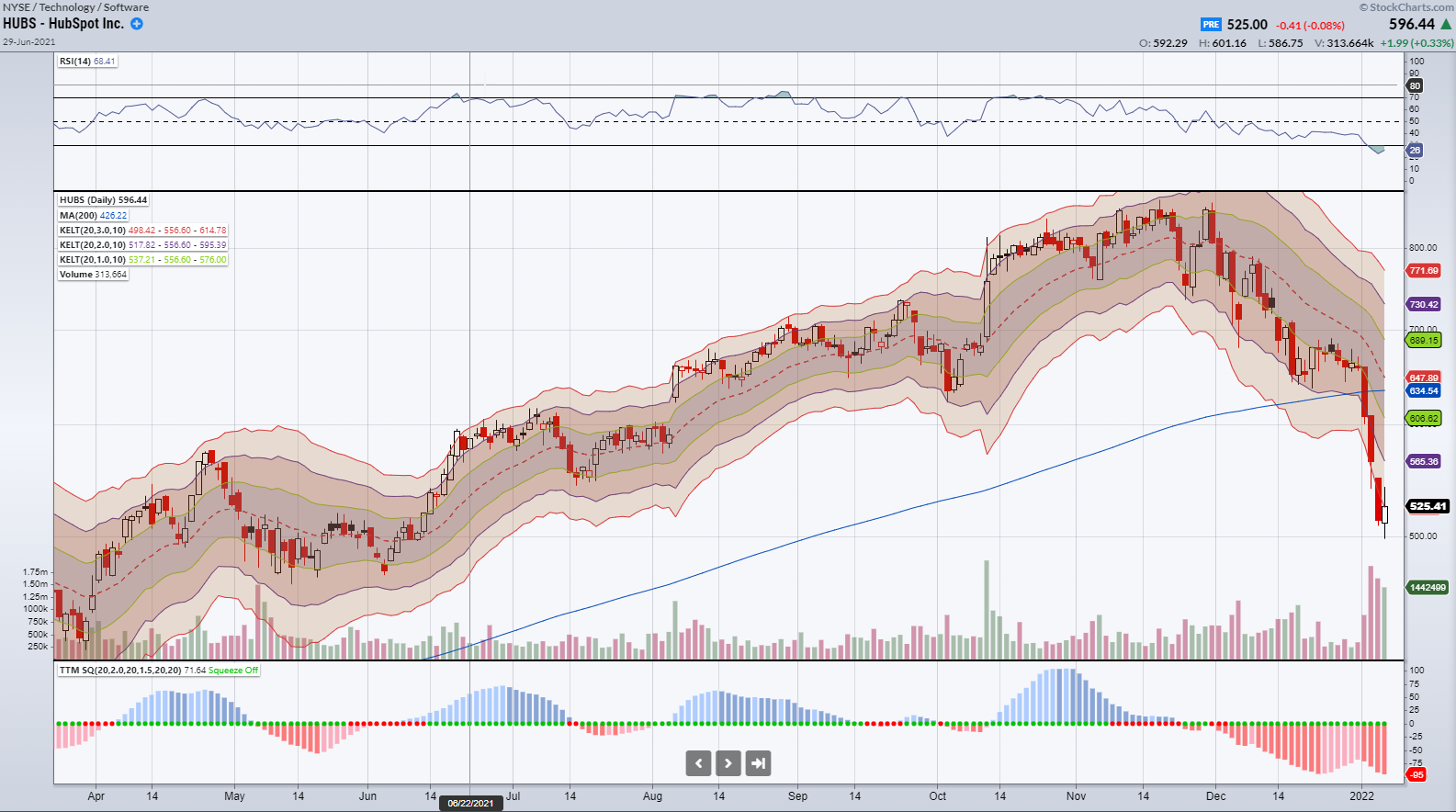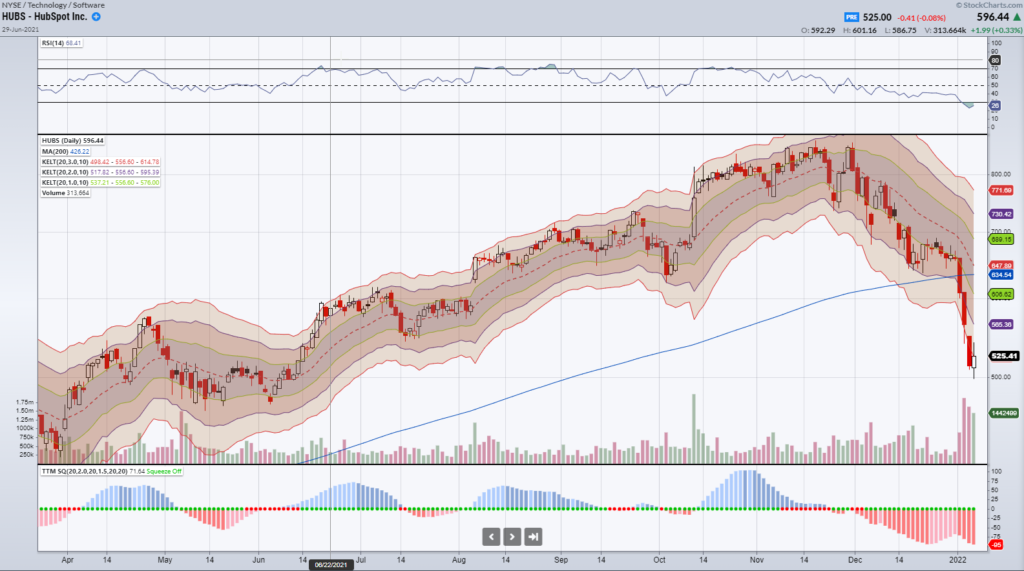 When I see a stock down 30-40% in a month, I understand there is major bounce potential. HUBS is severely oversold, in fact, it is beyond a 3ATR deviation from the mean on the Keltner channel, closer to 4 ATR. These types of extreme oversold conditions are rare in large-cap stocks and can lead to major bounces on a retracement back to the mean. 
In addition, after 3 large down days on quality stock, you rarely see a 4th. You might get a retest of the lows and break, but I'm willing to take a shot here at these levels. 
The Trade
I'm looking to sell the $500 puts to start with and will also try to scale in some calls if HUBS begins to stabilize and finds its legs. I think we could definitely get a bounce to $550 or $560 in the coming days! Earnings on HUBS aren't until February, so I'm looking to go a few weeks out on the put spread. 
I've put a working order to sell the $500 puts and buy the $490 puts for $4 expiring January 21, a trade known as a put spread. Can HUBS stay above $500 to Jan 21?
GOOGL
Out of all of the FAANG stocks, Google is my favorite right now. It was extremely oversold on Wednesday, and I believe this was an overreaction to the Fed Minutes release.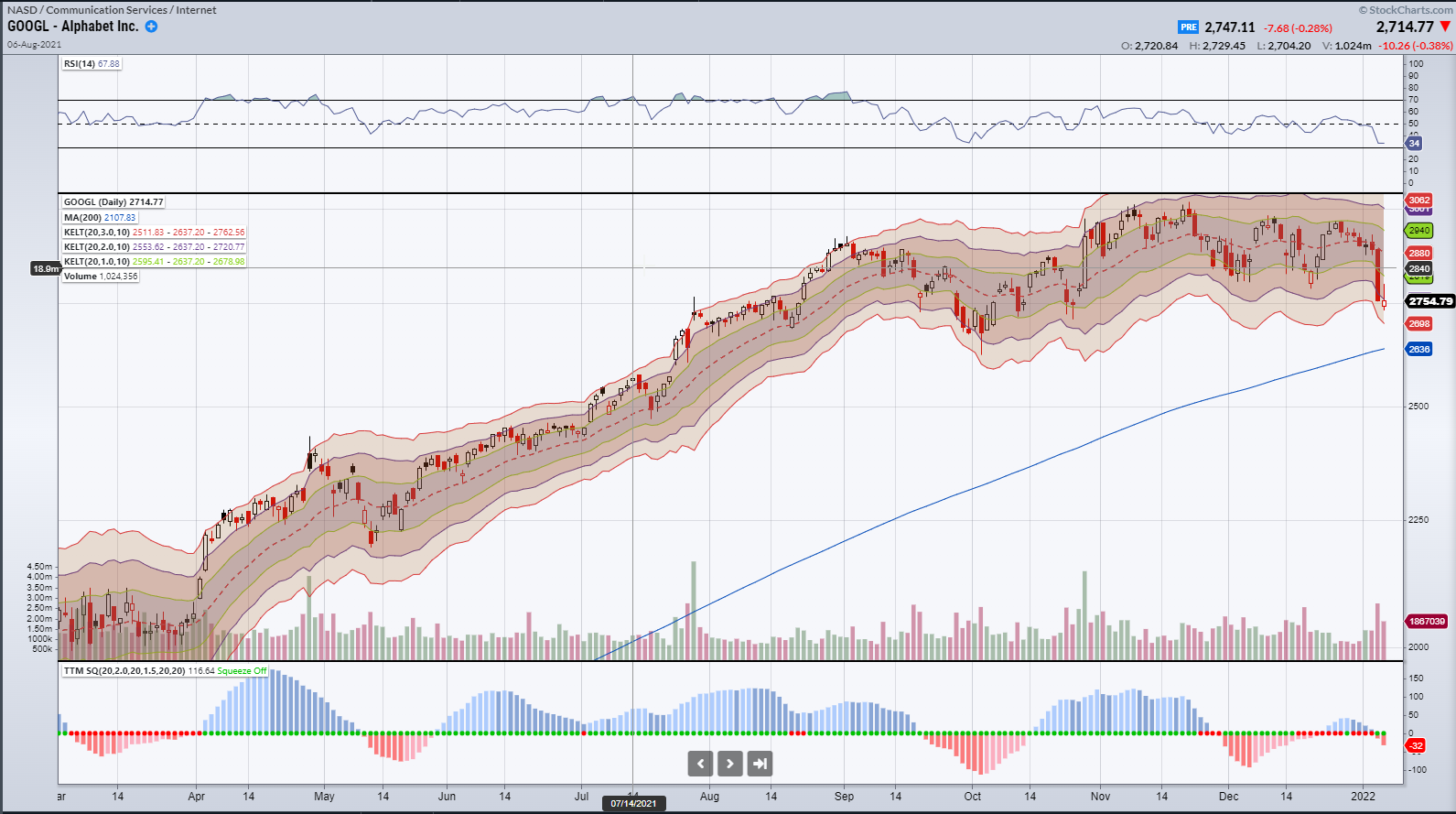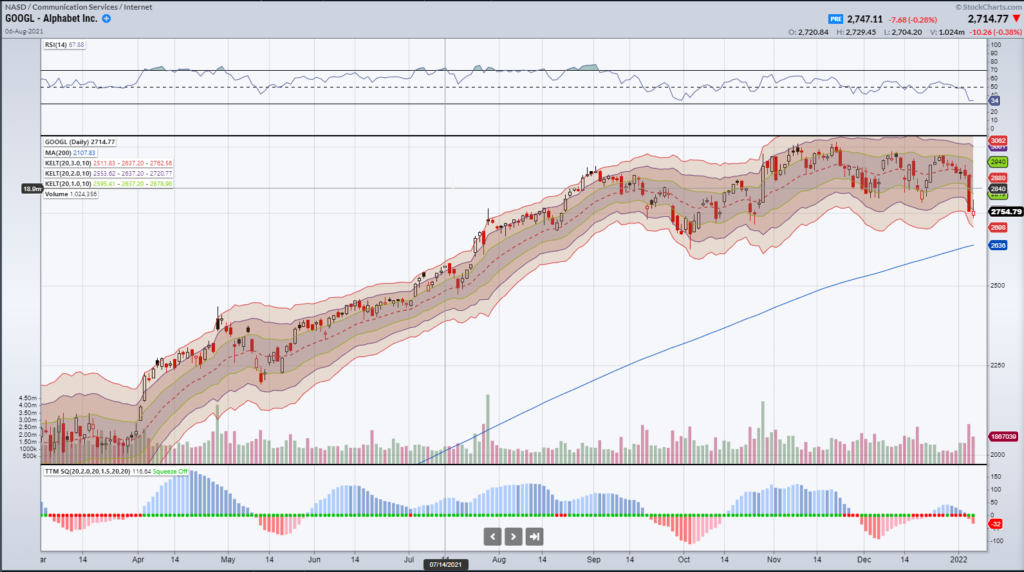 GOOGL found some buying yesterday above the $2700 major support level. I expect this major $2700 level to hold
The Trade
I have a working order selling the $2690 puts and buying the $2680 puts for $2.80.
Bottom Line
When others are panicking, I'm trying to stay two steps ahead. We saw some extreme moves post the Fed Minutes on Wednesday that may have forced some participants out of the market as MOMO funds shorted and sold stock. 
However, I've been waiting for an opportunity just like this to put some trades back on. I feel we may have hit a capitulation bottom in many stocks on Wednesday, and while I've been parking a lot of cash on the sidelines over recent weeks, I'm ready to put some back to work because the setups are that good. 
I've put working orders in HUBS and GOOGL, 2 of my favorite stocks for a short-term bounce. I've got a few more trades lined up for next week because the potential for a nice bounce is significant!